We have lowered our prices on DVD's for overseas, some are significantly lower (also some prices for US). Instead of being shipped priority mail that costs up to 13.00 it will be sent first class. books will still have to be shipped priority
Most people think the New Age Movement has gone into obscurity, but it is more popular than ever before. It is no longer seen as fringe beliefs but is mainstream. The fact is the church has its doors open to the new age movement, many of it teachers unknowingly and some knowingly have adopted and promote its practices. How? By accepting new age concepts and practices without knowing what they really are.
In this DVD set we cover the basics. Starting with Mike's testimony of coming to Christ from being involved in the new age movement. The Aquarian Conspiracy written by Marilyn Furgueson that began with Helena Blavatsky, Alice Baily and Pierre Tielhard de Chardin, which is what we are now seeing come to fruition through its promoters like Oprah, Tolle, Dyer, Walsch and so many others.
What are the New age energies being used to heal? yoga, karma, the Jesus of the gurus. False spiritual masters of the hierarchy, spirit guides, channeling and UFO's are all covered and exposed. A copious amount of videos with Power point accompany their quotes and explanations.
This video also covers the most susceptible and vulnerable of all, the children who are being influenced greatly into new age practices by the books they read. Parents need to be more aware than ever what they are purchasing from online bookstores and what is happening at their schools.
Probably the most dangerous part of this movement is the use of "I am" decreeing and chanting Gods holy name as yourself. We are in the midst of a worldwide Occult revival, learn how to recognize what is taking place and protect yourself and loved ones from this movements influence.
There have been so many false prophecies of the Lord coming for his church or to establish his kingdom on earth. Numerous false dreams and visions of a rapture, both pre and post that few take this doctrine seriously or as imminent. So many people today deny that there is a rapture, no matter what the timing is. For there are disagreements on not just the timing of this event, but whether it even occurs in the future, or has already occurred.
Did Jesus speak of it, promise it? Is this a new doctrine, made up one, or, is it found in Scripture. Paul says to the Church in 1 Cor. 15:51 Behold, I tell you a mystery: (as Col. 1:26-27 states). The Bible says the living saints are transformed at the same time of the resurrection. They are uniquely connected.
Is this event only spoken of in the New Testament or is it illustrated in the Feast days? What is the last trump, The shofar sounds that immediately transforms both the living and the dead in Christ to meet Christ in the air. Will the world know? The question is why, and what happens to us. Is it distinguished as a separate event from the second coming where Jesus establishes his kingdom on earth, or is it the second coming?
Are there consequences for denying the scriptures that pertain to this event. In this DVD I offer number of points from Scripture that we should consider to better understand this subject.
What are the official teachings of the Roman Catholic church, what do they practice? Scripture and tradition, Salvation, sacramentalism, Mary devotion, the Eucharist, are discussed from the Bibles perspective. We look at the interfaith movement started by the Pope and the new ecumenical revival that the Pope has brought to Charismatics and Pentecostals through compromised teachers.
This dvd has some shocking clips about what Roman Catholics believe, i.e. on the eucharist and how it will save people in their evangelization. Video and commentary are made on the popes emissary to evangelical charismatics who have purposely ignored what they once knew as false teachers mislead them into acceptance of this religious system.
Catholics are on a mission to gain the Evangelical/ protestant church's trust to accept them as fellow Christians, or, to join back to the church that they call the mistress of them all.
Can it be proven that they are a church that promotes a false Christianity, can one find salvation and the true gospel in the message of the church? This is all covered in the dvd that is one and half hours long.
This 2 part DVD goes deeper into where the indigenous people movement left off, refuting the premise of other nations worshiping God under different names.
Covering the book of Genesis we look at who were obedient and worshipped God. We examine the lineage and the knowledge passed on as well as who the people are the apostle Paul addresses in Rom.1:20-28. Who walked with God, what happened at Babel, after the flood. who had the true and accurate knowledge of God, why did God take Abraham out of a pagan land to form Israel.
We look at the new paradigm Don Richardson and his disciple Daniel Kikawa introduced to the church and prove it is unbiblical. Are there hundreds of cultures in the world already knew or were worshiping the supreme God. Many tribes and cultures of the world have ancient concepts of the existence of a "sky-god", that goes by different names. But is this the same God that we are to worship as believers in Jesus Christ? Are these corrupted memories in hundreds of tribes and cultures encountered by missionaries.
Did God reveal himself to these hundreds of cultures as Richardson and Kikawa claim? Is Jesus found in other religions? Is general revelation of God through nature or knowing of a supreme God in some distant past sufficient?
Who are the people teaching to use former supreme gods as the Father who sent the Son, use the nations gods names to evangelize the nations. Io, Hananim, Shang ti, Allah are just some of the gods accepted as the same as YHWH: Yahweh.
You will see that this is a inclusive, universal god movement that is prophesied in the Bible and that this could be the greatest deception the Church has ever faced. Does this bring us to a new presentation of Interfaith?
How this evangelization method diminishe the importance of Israel and replace her role with the other nations gods. This video will bring us to understand that we should not go by new philosophies or current trends in anthropology but stay with the Bible
This DVD is accompanied with power point teaching as well as various video and audio clips.
One cannot understand the modern miracle revivals or healing crusades of Benny Hinn, Rodney Browne (laughter), Toronto, Brownsville, or Todd Bentley without referring to the healing revivals of the 40's-50's.that were steered and popularized by William Branham. Nearly all the practices of today's apostles, Prophets, healers, faith ministries, are being copied. Visits by angels and the Lord Jesus, words of knowledge (telling people where people live and secrets of their lives), new revelations were all part of William Branham's ministry operation. One can trace portions of the revivals in our modern era back to him. The Latter Rain teachings began by Branham and spread to so many.
Branham believed he was born with a personal angel that was a gift. But he did not think of it as such until he was converted and went to church. This gave him an answer to a disembodied voice (spirit) that accompanied him from birth and instructed him through life, telling him future events and diagnosing peoples diseases.
The video is filled with audio and video on crucial teachings of Branham (and others that admire him) that show that his angel was in charge of the supernatural taking place.
Understanding Branham's ministry in the 40'sand 5o's is key to our day. Once we know about Branham we can identify the strange teachings and practices taking place from the new apostles and prophets trying to bring their mystical (Latter Rain) revival in the church today. (you can read our articles on Branham in the Latter rain section).
DVD is one hour and 15 minutes long
USA
$20.00 includes shipping
Overseas
$22.00
Rick Warren's Panacea: A Fig Leaf PEACE Plan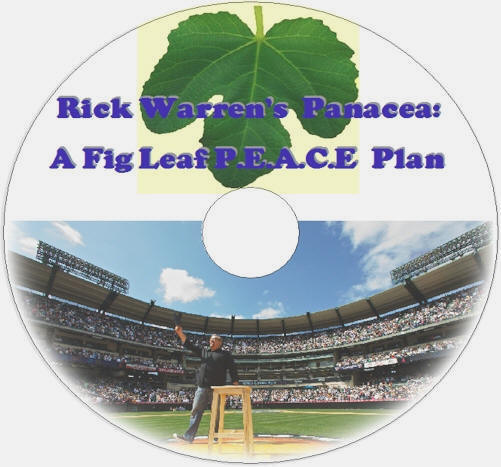 Why is there such controversy surrounding Rick Warren, his Purpose Driven teaching and PEACE plan? This video shows systematically what Warren has progressed into and where he is taking the church.
Borrowing from his mentor, business manager Peter Drucker, Warren implements the 3-Legged Stool into the church(uniting the sectors of government, businesses and 'faith'). Warren believes he has found the answer which will result to solve the worlds problems. He continually exposes the church to non biblical concepts and is willing to align himself with the world and those of other religions for what he deems a greater purpose. From promoting a health plan with doctors that introduce eastern type meditation's, word faith teachers and others who espouse interfaith practices Warren has become the quintessential ecumenist for our age.
His PEACE plan is open to anyone and everyone, even atheists. For a Christian, unity has to be based on the teachings of Scripture not on uniting with others who oppose Christ to do generic good works. This is forming a globalization of Religions (he calls 'Faiths'), uniting with the secular, with political organizations, building a unity as they did in Babylon. This introduces Humanism as the common denominator for unity.
In this video we answer why Warren's fig leaf P.E.A.C.E plan produces works without fruit and misleads the church off the narrow road we are to be on. With numerous video and audio clips in a power point presentation this is a must see for all those whose church has become involved with Warren's teachings and methodology.
USA $20.00 (includes shipping)
Overseas $22.00 (includes shipping)
Basic Evangelism
Why evangelize? Because people are perishing without Christ. But how do we let them know? There are do's and don't to witnessing. Beginning and ending conversations to be more effective. What to say and what not to.
We may not all be evangelists, but we are all to give the gospel when the opportunity presents itself. Are we prepared to speak? Eph. 6:15: "and having shod your feet with the preparation of the gospel of peace." Get prepared, know what you are talking about to be effective in your witnessing.
A 2 part overview on the principles and topics needed to effectively witness to atheists, those who do not believe in absolutes, quick answers to the other religions and cults at your door. Comes with outline for notes (sent by email).
DVD video is nearly 120 minutes long. Pt.1 The why, what and how of evangelism; p2 apologetics in evangelism.
USA includes shipping $15.50
Overseas (England, Australia Canada etc.) includes shipping $18.00
Joseph Prince: Negotiating the gospel of grace -
Integrating word faith teaching with the gospel
2 DVD set nearly 2 hours long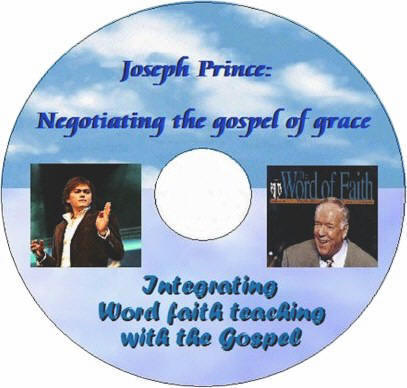 Joseph Prince has broken in on the TV networks and has become known for preaching the gospel of grace. But what he has done is incorporated his word faith teachings and promises with the gospel health and wealth; exaggerating the gospel of grace. Prince is presenting special revelation according to his view on the gospel, teaching that we no longer need to confess sin but instead confess our righteousness in Christ. That the Holy Spirit does not convict believers of any sin, but of their righteousness they have from Christ. This video shows his quotes by power point and numerous video clips making it clear that he is a word faith teacher and the basis for his message is the false word faith teachings of Kenneth Hagin and others.
$19.50 to USA shipping included
$22.50 overseas shipping included
The Last Days, Islam & Israel - Conflict of the Ages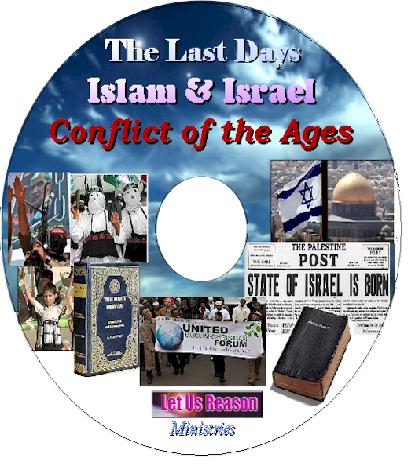 Are we in the Last Days? What are some of the events we are to watch for before Christ comes for his church and the world enters the Tribulation. This video contains numerous video clips accompanied with a power point presentation that looks at changes in the weather, events that are shaping politics and religion. The increase of earthquakes, worldwide disasters, conflicts, signs from heaven. The apostasy in the church on man being as god (with video and audio clips).
The church and America's reverse policy on Israel. Chrislam, the blending of the two religions in conflict for an unholy unity.
These issues are covered as we move into the main topic where we concentrate on the middle east and the prize-Jerusalem. What is the Arab Spring really about? As we see the nations leaders being removed what is about to take place.
Islam's goal for a new Caliphate. The Muslim brotherhood, Iran's video release of The Coming is Near on the Mahdi. Israel's defense for the land. The elimination of Christians by Islam throughout the Muslim countries.
There is a darkness coming that is far worse than the middle ages. Be informed on the current events taking place throughout the world that affect countries and freedom.
1 hour and 30 minutes long
US only (includes shipping) $16.50
Overseas $18.50
The Battle against the Queen of Heaven on Mt. Everest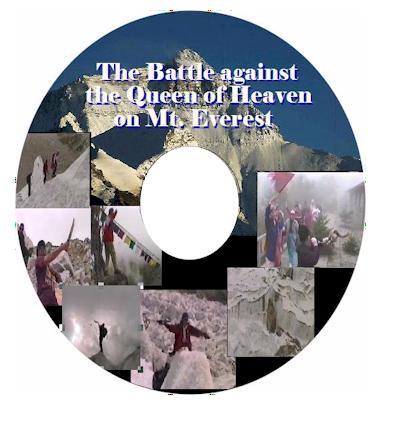 How does the NAR, New Apostolic Reformation conduct their spirit warfare? In this one of kind video you will see firsthand the event that they claimed changed the world. Ana Mendez claims that her spiritual warfare on Everest was "one of the most important exploits the Holy Spirit sent the church to do."

Certain new Apostles and prophets are generals in a spirit warfare army. They claim to have new revelation and the keys on how to defeat Satan's kingdom and bring God's kingdom on earth.
Ana Mendez under the approval of Peter Wagner went with Rony Chaves, Silvia Venezuela, Doris Wagner and others to Nepal. Doris and Silvia led a group in spirit warfare prayer at the Everest View hotel, Mendez, Chaves with a few others hiked Mt. Everest to Battle the Queen of heaven and defeat her so Babylon would be overthrown. Because: "the prince of this world has established his dwelling place, a place where the imitator could sit like God over all the earth. This place is the highest mountain on the world it is Mt. Everest" (DVD "Mount Everest Expedition").
The Bible does not speak or instruct us to identify and confront principalities, powers in prayer or travel to where they are supposedly located to do prophetic prayer acts or declarations? But according to the spirit warfare model of the new apostolic movement, it is necessary. In their spiritual warfare they think and do beyond what is written, something the Apostle Paul warned of.
We heard of this expedition in the late 90's but had not seen what actually took place. What we see them doing is both eerie and disturbing. Enhance your biblical education on these mystical practices that have entered the church. This video will bring awareness to the body of Christ of what is really being practiced in their spirit warfare methods and how far removed it is from what the Bible actually teaches.
After seeing this video it will confirm that what they are teaching and practicing is not a Biblical method of spiritual warfare and needs to be avoided. Become educated to prevent you and others from any involvement with spiritual warfare taught by the New apostles and prophets movement under Peter Wagner and Chuck Pierce.

The video is 1 hour long with clips and power point explanations of their spirit warfare.
in the US is $21.00 (includes shipping)
For Overseas orders it is $23.00 (includes shipping)
2 DVD set- teaching on the Indigenous People's movement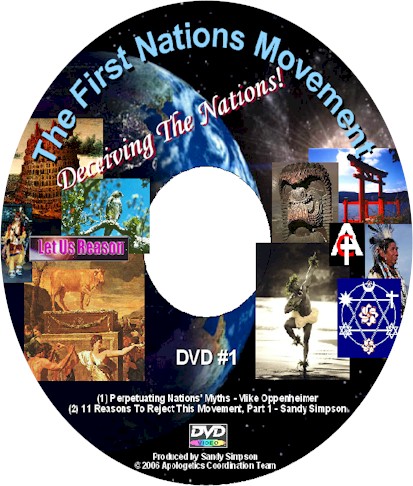 There have always been numerous possibilities on how the worlds religions would unite. Over the last several years a new missiology has surfaced that actually makes use of the former false gods and worship practices of various cultures in this movements evangelistic efforts to reach different cultures. The Indigenous People's movement is teaching Christians to "redeem" their cultures by worshipping their former gods, calling them YHWH. Are the gods of the nations the same God of Israel?
False teachings of the Third Wave concepts, New Apostolic Reformation (NAR), Dominionism, and many other false theological systems find their place in this movement. Yet it has it's own shrewd distinctive. Daniel Kikawa, Richard Twiss, YWAM and many others are teaching unbiblical ways to evangelize the nations.
This DVD video series features Mike Oppenheimer and Sandy Simpson and their in depth research regarding the First Nations Movement and World Christian Gatherings of Indigenous Peoples. This is an issue that pastors and missionaries need to be informed of because it goes to the core of evangelism and preaching the Gospel. Over 3- 1/2 hours long.
price for the 2 DVD series is
U.S. Orders $26.00 includes shipping and handling
---
Foreign- Outside US price is $29
---
the New Apostolic Reformation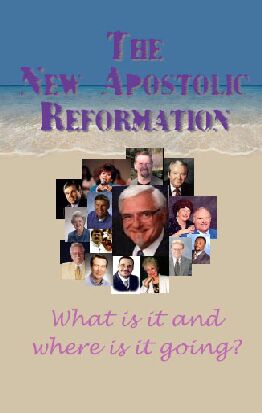 This one-of-a-kind series is a comprehensive report on the New Apostolic Reformation, a 6-DVD set, 11 hours total. It features commentary by Bill Randles, Arnold Fruchtenbaum, Jacob Prasch, Mike Oppenheimer, Jewel Grewe, Jackie Alnor, Orrel Steinkamp, Philip Powell, Gary Gilley, Greg Robertson, Dave Hunt, Sandy Simpson and others.
Vast amount of topics and information everyone needs on the prophetic movement and the new apostolic leadership of Wagner and Pierce. A must see to know what they are really about.
$50.00 includes shipping in US only
---
Overseas $53.00- includes shipping (England, India, France etc)
---
THE SPIRIT OF TRUTH OR THE SPIRIT OF ERROR!
DVD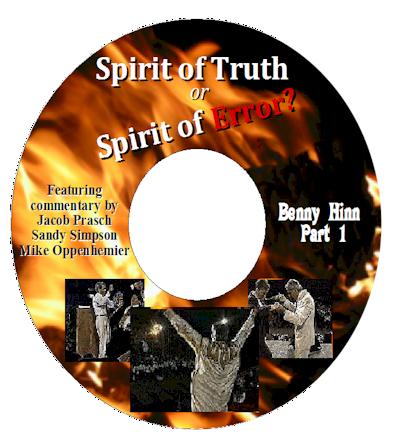 Have you ever wondered why there are people who say Benny Hinns teachings are unbiblical? Ever have a problem having a friend understand what Benny Hinn teaches is wrong? This video will help solve these obstacles. The facts presented on this video are documented and undeniable. This production contains a wealth of old and new video quotes with biblically based commentary. The facts presented on this video are documented and undeniable. We believe you will find this to be a valuable resource in learning to discern whether these teachers are teaching in the SPIRIT OF TRUTH OR SPIRIT OF ERROR! This video has a powerful impact to deliver someone from falsehood.
This video is 1 hour and 40 minutes long! Cost of video is now $25 this includes shipping and handling (in US).
USA (US only) $21.50
---
foreign $24.00 includes shipping
For ordering the book on Benny Hinn see the bottom of page
---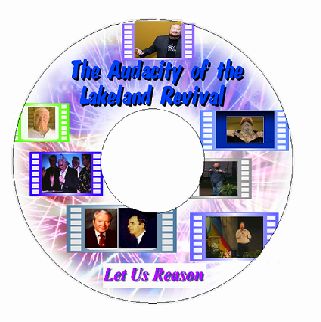 The Audacity of the Lakeland Revival
Why did the Lakeland outpouring fail? Can Lakeland be refuted as a real revival. This video documents the teachings, exposes the fabricated supernaturalism that was taught to the youth as real biblical experiences. Numerous clips from its broadcasts on you-tube prove the unsound doctrine that made this a Toronto repeat. You will hear the false prophets of the New apostolic movement lift up Bentley to introduce a new move of the Spirit and prophesy his success. One week later it came to an end. You will learn of the spiritual agenda these men hold behind this revival (Latter Rain theology). This video will help you show why Toronto style revivals are not sent from God nor approved by him. We can then immune ourselves and our loved ones from other false revivals that will certainly come.
Over 2 hours
USA only $22.00 shipping included
Foreign (Overseas) $24.00
---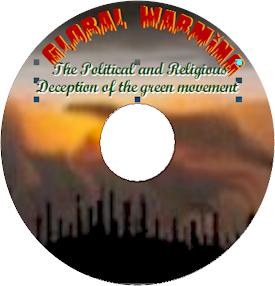 The Political and Religious Deception of the Green Movement
Deception seems to be in every aspect of our lives. One of the strongest, deepest and most influential deceptions in our day is the Environmental movement. It has finally reached a crescendo with the exposure of emails of scientists that covered up the facts for their agenda.
Is global warming science, politics or religious? Is this really a life or death issue for the planet and her creatures or is there more to this than what we have been told?
How accurate are the Scientists findings. As controversial as this topic is, we can see the media is on the side of science, BAD science, dishonest conclusions are promoted in the media as if they are factual.
Understanding the new age agenda that has influenced nearly everything. Its not about Global warming but about using this threat to have control. What we had heard for years is now confirmed as the globalists agenda. Transformation of countries through Green policies. Where did it begin? Where is it leading us? What is their purpose in wanting people to be environmentally friendly. Who are some of the people involved and how organized are they? The video covers the re-education of our children to be global citizens, the media's bias and subsequent brainwashing of the masses to accept green policies. it has also infringed on the church. This video presents the quotes of those involved and gives answers through power point, videos; with logic, actual facts and the Bible. Be aware of what is taking place, become educated, this issue is not going away and is affecting Christianity.
one hour and 10 minute long video
please make sure you use the right button or it will delay your order. thank you
$18.00 US only (includes shipping)
$20.00 foreign
---
Yoga- a non Christian spiritual exercise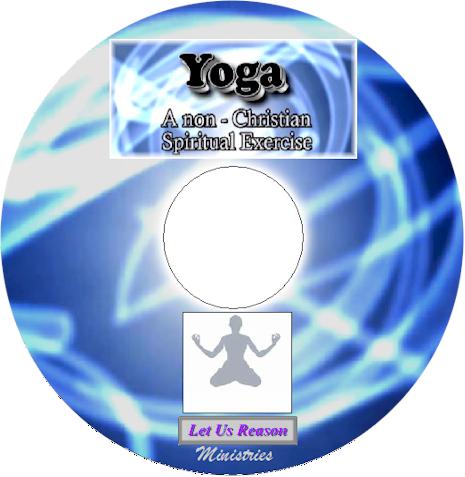 Is Yoga a neutral, non religious physical exercise that can it be practiced with the Christian faith without any repercussions?
An in depth look at what Yoga really is and how it is affecting society and especially the church. The accompanying power point presentation will make it clear that Yoga is not just a physical exercise. This 54 minute video is a good preventative for those who may be inclined to do yoga, it is also an apologetic, giving answers for why Christians should not accept this practice as something neutral or complimentary to their faith. It is a completely different spiritual system than Christianity. Know what it is about before you get involved
-$14 include shipping in the USA first class
20.00 foreign (outside USA) including shipping
---
An Examination of the Watchtower and the Jehovah's Witnesses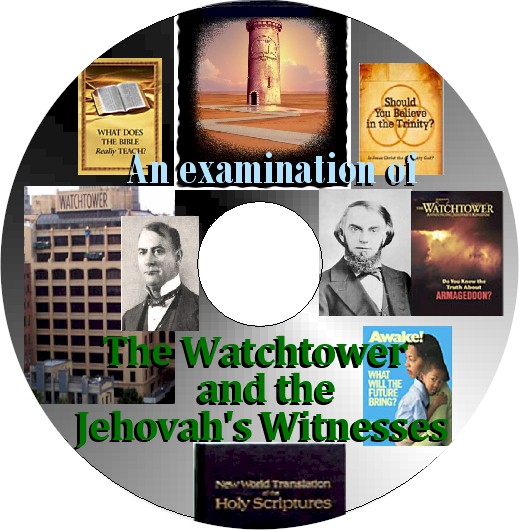 An hour long lecture with nearly 60 power point pictures and quotes that goes through the Jehovah's Witnesses history and teachings.
This is a good overall introduction and exposure to what the Watchtower teaches and what the Jehovah's Witnesses believe. Topics covered are the Watchtower headquarters in NY and their publications, membership and growth, The name Jehovah, the False teachings and prophecies of Russell and Rutherford, the teaching of the 144,000- heavenly class and earthly class, 144,000, dual gods of John 1:1, the resurrection. Witnessing refutes are incorporated throughout the DVD. Free tracts are included for witnessing.
USA $14.00 includes first class shipping
Foreign 19.00 includes shipping overseas
---
Singule Debate on the Trinity p.2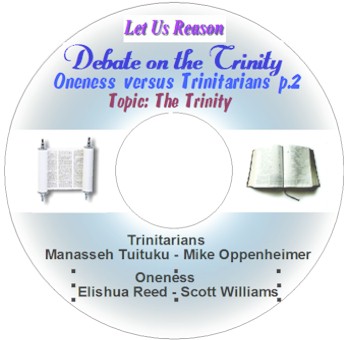 A 2 1/2 hour long Debate on the Trinity (plus questions and answers) on DVD
This debate was a knock down brawl with good points that illustrate the contention of beliefs between Oneness Pentecostals and Trinitarians..
When ordering please make sure you click the right button for shipping
Price in USA $16 includes shipping
Overseas- Foreign- $20.50
For Both DVD's p.1 and 2- Salvation and Trinity near 4 1/2 hours
---
Islam- Its prophet and its teachings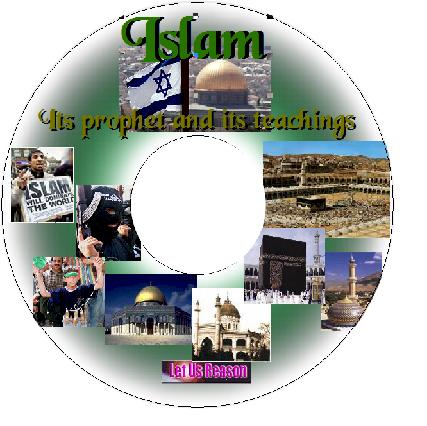 This is a good introduction to its teachings of its adherents and teachings that motivate its ardent followers. Teaching on Islam covers topics on the Mahdi, on Jesus, its prophet, history and agenda.
1 hour long lecture with power point presentation
Price in USA $14.00 (shipped first class instead of priority to save money on shipping)
Foreign- Price outside USA $19.00
---
The Parable of the Trees in Judges 9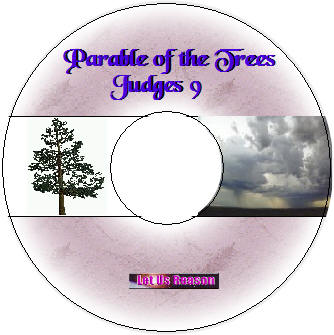 The trees once went forth to anoint a king over them. 'the olive tree', 'the fig tree', 'the vine', were asked but refused to rule over the people but instead all the trees said to the bramble, 'You come and reign over us!' And the bramble said to the trees, 'If in truth you anoint me as king over you.'
This is a prophetic parable of Israel and the nations. What are the nations asking to happen today, what are we seeing that is fulfilling prophecy. An hour long teaching with a power point presentation from the Bible that is informative on what is being set up. The topic is Israel, the church and world, and what is taking place in our day as we watch history unfold.
Please make sure you click the right button for shipping to either USA or overseas
Price in USA $14.00 includes shipping (shipped first class to save money)
Foreign- Price outside USA $19 (sent global priority)
---
Emergent Church DVD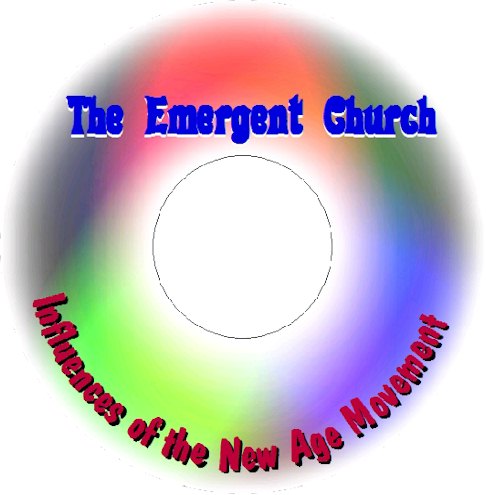 Lecture on the emergent church movement, what they teach and whose involved. This is a good introduction and refutation on the foreign religious practices they are bringing in and what it means for the church to synthesize other religions teachings with Christ. Learn about liberals, new age entering the church.
Price in USA $16.00
Foreign- Price outside USA $19.00
---
The Seeker Friendly/ Purpose Driven church movement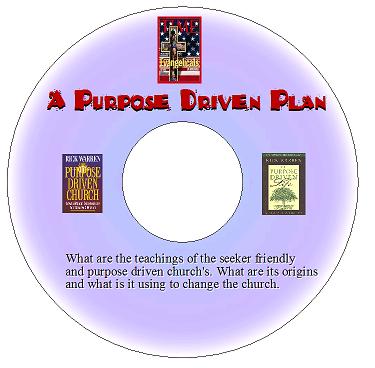 This video is filled with information on what the seeker friendly model is and proves why it is wrong. What is it origins and why has it changed the church. Who does Warren quote in the Purposed Driven life, his philosophy of ministry and means to bring about change. The Hegelian dialectic is explained (diaprax) so one can identify its working in various aspects of our culture and church.
This is a good video to teach classes with and introduce them to why these ideas introduced are not Biblically based. Also a good video to give to those involved and have them think deeper on the subjects.
2 hours long
In USA $18 (includes shipping)
Foreign- Price outside USA $20.50
---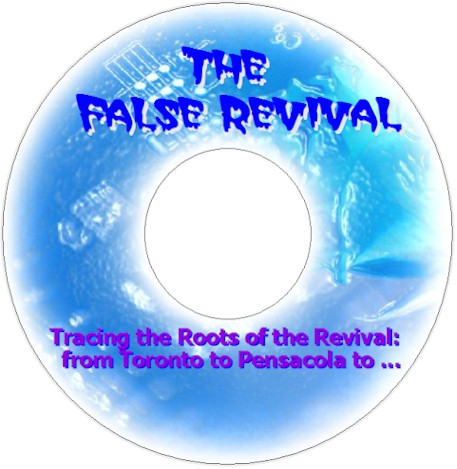 Tracing the Revival- From Toronto to Pensacola- Tracing the current revivalism and its roots, lots of video clips. Video puts clips side by side of the gurus and other religious practices with the modern revival to show the source of the power. nearly 2 hrs. (numerous clips) Refuting its errors.
In USA $22 includes shipping
foreign- outside US- $24 includes shipping
---
Discernment Conference
This Discernment conference was held in Oahu, Hawaii 2001 on DVD
6-DVD Set $51 includes shipping in US-- $56 outside US
speakers can be purchased separately (listed below).
Jacob Prasch, Bill Randles, Dave Hunt, Duane Magnani, Jewel Grewe, Mike Oppenheimer
In USA $48 includes shipping
Overseas- foreign- $51 includes shipping
---
Dave Hunt- lectures (3 lectures)
The Bible prophecies for the end times-The current ecumenism and interfaith directions of the church toward apostasy. What do we do? 55 minutes.
Occult Invasion - The Occult influences in our society and inside the Church.45 minutes
A urgent call to a Serious Faith- Defining the biblical gospel, what we are saved from and the call to discipleship to help us live in the last days.45 minutes-
The contradictions and illogic of Mormonism 45 minutes-
[all four topics of Dave's for total $26 this including shipping in US]
---
Bill Randles-2 lectures (3 lectures)
Watch out for false prophets-pastor Bill Randles- A great message on the necessity to recognize and test those who are in the prophetic movement. 50 minutes
The Mystery of iniquity the mystery of Godliness- pastor Bill Randles- The differences between the new age gnosticism which has man ascending and the Gospel of Jesus Christ with God descending. 45 minutes
Spiritual warfare- Bill Randles explains the difference between true spiritual warfare and the Gnostic mystical practices that have come into the church today.
All three for $22 includes shipping in US
---
Living Water Discernment Conference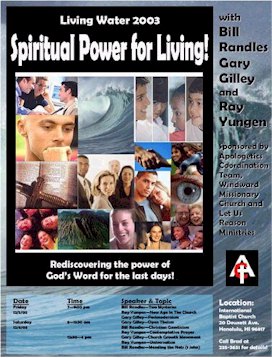 3-DVD Set
Speakers Bill Randles, Gary Gilley and Ray Yungen
Held in Honolulu, HI Dec.2003. Available in DVD. This conference featured Bill Randles, Gary Gilley and Ray Yungen presenting vital information for the churches. Topics are on seeker friendly church, the New age movements influence and about false teaching. A great resource for pastors and Christian's in ministry who want to be informed. (the quality is not great in this DVD but the information is)
USA - $23.50 includes shipping
Overseas- Foreign $27 includes shipping
---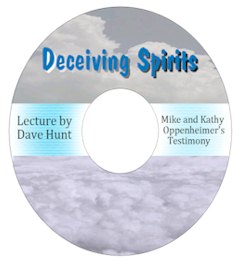 DVD- Deceiving Spirits

Dave Hunt lecturing at University of Hawaii campus

-Dave exposes the new age and psychology teachings that are affecting the Church, this information is still cutting edge for today. Mike and Kathy Oppenheimer's testimony of being delivered from the new age movement is included (can be useful to reach new agers) 1 hour and 30 minutes long

Price in USA $20 includes shipping

Overseas foreign- -

$22.50
---
DVD-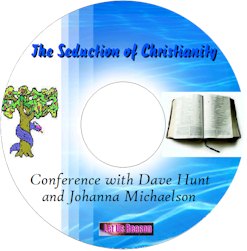 The Seduction of Christianity
Dave Hunt, Johanna Michaelson, lecture on prophecy and the New Age movement inside the Church. Johanna's testimony of being delivered from New age practices. Powerful information to set people free. Complete conference nearly 2 hours [includes question and answers].
in USA ($24 includes shipping and handling)
foreign (outside USA) $26.00
---
DVD Discussion on the Word/ faith Movemen

t- Jacob Prasch and Mike Oppenheimer discuss the dangerous teachings of the TV faith healing evangelists and the new revivalism. Basic introduction to their error. Clips of word faith teaching 54 minutes

US $16 includes shipping.

Overseas $18.00
---
DVD- Table discussion with other religions on Can there be Unity

Table discussion with representatives from Mormonism, Bahai and Eastern Catholic

discussing with Christians- Can there be Unity? One of kind table discussion on spiritual issues of doctrine. This was a classic discussion with a moderator posing the questions. nearly 2 hours.

$17 includes shipping in US.
---
---
Discussion on the Trinity- Mannaseh Tiutuku and Mike Oppenheimer discuss and explain the Trinity and the issues argued against it.2 hrs.$15 plus $4 shipping.
Other tapes from different ministries