Roman Catholicism today:
Semper Idem Always the Same?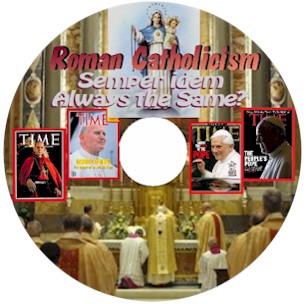 This is an important DVD on what is now taking place in ecumenism. What are the official teachings of the Roman Catholic church, what do they believe and practice? Scripture and tradition, Salvation, sacramentalism, Mariology, Mary devotion, the Eucharist, are discussed from the Bibles perspective. We look at the interfaith movement started by the Pope's and the new ecumenical revival that the Pope Francis has brought to Charismatics and Pentecostals through compromised teachers like Kenneth Copeland, James Robison, Rick Warren, Joel Osteen and Beth Moore are active participants in this ecumenical endeavor.
Commentary is made on the recent Pope's emissary to evangelical Charismatics who have purposely ignored what they once knew as false teachers mislead them into acceptance of this religious system. We look at the message Video delivered by the Pope to word faith adherents..
This DVD has Catholic testimonies and explanations heard on the Eucharist, some shocking clips about what Roman Catholics believe, i.e. on the Eucharist (they believe is the hope of the world) and how it will save people in their new evangelization. . What evangelicals endorse their new evangelization. Catholics are on a mission to gain the church's trust and accept them as fellow Christians, or, to join back to the church that they call the mistress of them all.
Can it be proven that they are a church that promotes a false Christianity. Can one find salvation and the true gospel in the message of their church? A good video to sit down and watch with your Catholic friends and family to ask and answer questions. This is all covered in the 2 DVD set that is about 2 hours long.
USA price $21 includes shipping
Overseas price $23.00 includes shipping