Jesus

the SHEPHERD OF THE SHEEP

Throughout the Old Testament, there are many motifs and symbols for Christ. There is none more important than the shepherd and his sheep. The shepherd of the Old Testament is found to be both a leader and a companion to his sheep (1 Sam. 17:34-37 David was protecting his sheep.)

As a shepherd: He knows his flock and is gentle with them ( Prov. 27:23); carries the in his arms (Isa. 40:11)-- rescues them from danger (Amos 3:12); seeks after the lost sheep (Ezek. 34:12). He is the one who opens the gate to allow the sheep to go in and out; the wolves would have to get by his guarding the flock.
We find the same qualities of the Old Testament shepherd in Jesus who is our chief shepherd.
Micah 5:2: "But you Bethlehem-Ephratah, in the land of Judah, for out of you will come a ruler who will be called the shepherd of my people." God has appointed one to be the shepherd of his people in both the Old and New Testament.
It is Jehovah who provides for his sheep Ps 100:3: "We are his people and the sheep of his pasture."
Two of the major Old Testament prophets portrayed Jehovah in tender and vivid pictures. Jehovah was a Shepherd of Love. Isa.53 "Like sheep we have all of us wandered away."
Isaiah wrote, but Jehovah says, "I will search for my sheep and care for them...I will deliver them out of all the places to which they have been scattered....in a good pasturage I will feed them" (Ez. 34:11-16.)
Isaiah also wrote that Jehovah "will collect together the lambs and in his bosom he will carry them. Those giving suck he will conduct with care" (Is. 40:11).
John 10:3-7: "To him the doorkeeper opens, and the sheep hear his voice; and he calls his own sheep by name and leads them out." And when he brings out his own sheep, he goes before them; and the sheep follow him, for they know his voice. "Yet they will by no means follow a stranger, but will flee from him, for they do not know the voice of strangers." Jesus used this illustration, but they did not understand the things which He spoke to them. Then Jesus said to them again, "Most assuredly, I say to you, I am the door of the sheep."
Its no wonder Christ is called the Good Shepherd (Jn. 10), the Chief Shepherd (1 Peter 5:4), the Great Shepherd (Heb. 13:20).
It was Jesus who it is written of Matt 9:36: "But when He saw the multitudes, He was moved with compassion for them, because they were weary and scattered, like sheep having no shepherd." He was there shepherd.

In Mark 6:34 it adds "So He began to teach them many things." Listening to Christ is the first step to having him be your shepherd.
Heb.13:20-21: "Now may the God of peace who brought up our Lord Jesus from the dead, that great Shepherd of the sheep, through the blood of the everlasting covenant, make you complete in every good work to do His will, working in you what is well pleasing in His sight, through Jesus Christ, to whom be glory forever and ever. Amen."
Zech. 13:7 'Awake 0 sword against my shepherd, against the man who is my companion (equal) says the Lord of Host. Strike the shepherd and the sheep will be scattered." Notice God says he is the shepherd, Jesus is the one who God ordained for us to follow, the shepherd that was struck was Jesus.
Yet the striking of Him was fulfilled in Mt. 26:31; the night of Jesus' betrayal.
Matt 26:31-35 Then Jesus said to them, "All of you will be made to stumble because of Me this night, for it is written: 'I will strike the Shepherd, And the sheep of the flock will be scattered.'
"But after I have been raised, I will go before you to Galilee." Peter answered and said to Him, "Even if all are made to stumble because of You, I will never be made to stumble." Jesus said to him, "Assuredly, I say to you that this night, before the rooster crows, you will deny Me three times." Peter said to Him, "Even if I have to die with You, I will not deny You!" And so said all the disciples.
Peter stumbled because he had temporarily lost the testimony of Jesus, His Sherpherd.
Ps. 22 is the account of the good shepherd laying down his life for his sheep. PS. 23 David said that Jehovah is our shepherd.
There is only one shepherd from the Old Testament continuing in the New Testament.
Ezek.34:23, Zech.11:4-14, Zech.13:7 Christ claimed he was the fulfillment of these prophecies (Jn.10:8,11,14).
It is the Son who is to guide and lead one to green pastures and still waters. John 10:14-16: "I am the good shepherd; and I know My sheep, and am known by My own." s the Father knows Me, even so I know the Father; and I lay down My life for the sheep." And other sheep I have which are not of this fold; them also I must bring, and they will hear My voice; and there will be one flock and one shepherd."Ps.23 tells us the Lord (Yahweh) is the shepherd.
Jehovah's Witnesses make it a point to say you follow Jesus we follow Jehovah. But who did the disciples and apostles follow?
We find in the New Testament that Jesus called everyone to follow him Mt.4:19,8:22 16:24,19:2; Lk.5:27; Mk.2:14,6:1, Jn.10:27,12:26, 13:36 ,18:15, 21:19
Not once did he say to follow Jehovah the Father.

Matt 4:19: Then He said to them, "Follow Me, and I will make you fishers of men." Without following Jesus you can't bring people into the kingdom.

Matt 9:9: "As Jesus passed on from there, He saw a man named Matthew sitting at the tax office. And He said to him, "Follow Me." So he arose and followed Him.

Mark 8:34: "When He had called the people to Himself, with His disciples also, He said to them, "Whoever desires to come after Me, let him deny himself, and take up his cross, and follow Me.

John 12:26: "If anyone serves Me, let him follow Me; and where I am, there My servant will be also. If anyone serves Me, him My Father will honor." to serve and follow Christ is the will and approval of the Father.

Luke 9:23-24: "Then He said to them all, "If anyone desires to come after Me, let him deny himself, and take up his cross daily, and follow Me. "For whoever desires to save his life will lose it, but whoever loses his life for My sake will save it.

Even Paul who started the churches in Asia told them who he follows as a pattern.1 Cor. 11:1 "Imitate me, just as I also imitate Christ."
Not even the famous 144,000 are any different than the disciples Rev. 14:4 "These are the ones who were not defiled with women, for they are virgins. These are the ones who follow the Lamb wherever He goes. These were redeemed from among men, being firstfruits to God and to the Lamb."
Eph. 5:23: "For the husband is head of the wife, as also Christ is head of the church; and He is the Savior of the body."
Col. 1:18: " And He is the head of the body, the church, who is the beginning, the firstborn from the dead, that in all things He may have the preeminence." We receive our sustenance and instructions from Christ only!
We find it is Jesus who will have us drink from the fountains of living waters throughout time. Rev 7:17: "for the Lamb who is in the midst of the throne will shepherd them and lead them to living fountains of waters. And God will wipe away every tear from their eyes."

Luke 15:4-7: "What man of you, having a hundred sheep, if he loses one of them, does not leave the ninety-nine in the wilderness, and go after the one which is lost until he finds it? "And when he has found it, he lays it on his shoulders, rejoicing. "And when he comes home, he calls together his friends and neighbors, saying to them, 'Rejoice with me, for I have found my sheep which was lost!' "I say to you that likewise there will be more joy in heaven over one sinner who repents than over ninety-nine just persons who need no repentance." Christ goes after each one personally. They are his sheep. He is the Shepherd that brings one through the valley. There is a huge difference of knowing about God and having him be there for you personally.
Heb 3:7-12: " Therefore, as the Holy Spirit says: "Today, if you will hear His voice, Do not harden your hearts as in the rebellion, in the day of trial in the wilderness, where your fathers tested Me, tried Me, and saw My works forty years. Therefore I was angry with that generation, and said, 'They always go astray in their heart, and they have not known My ways.' So I swore in My wrath, 'They shall not enter My rest.' " Beware, brethren, lest there be in any of you an evil heart of unbelief in departing from the living God;" Do you hear the voice of the shepherd?
Jesus makes it clear those who follow God will follow him. John 10:25-30: " Jesus answered them, "I told you, and you do not believe. The works that I do in My Father's name, they bear witness of Me. "But you do not believe, because you are not of My sheep, as I said to you. "My sheep hear My voice, and I know them, and they follow Me. "And I give them eternal life, and they shall never perish; neither shall anyone snatch them out of My hand. "My Father, who has given them to Me, is greater than all; and no one is able to snatch them out of My Father's hand. "I and My Father are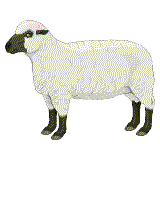 one."
The sheep are Jesus', they are in His hands and the Fathers. If one does not follow Jesus they cannot know the Father and they are not his sheep.
Without him one cannot follow Jehovah.