New Book The Gospel- What is the way of Salvation
A through look at the gospel, its activities and various facets.
It is important that every Christian understands the Biblical meaning of the Gospel and historicity of Christian Baptism. This book covers the fall of man the introduction of the sacrificial system, how it was used throughout history. What the Gospel is and what it is not. The way of salvation. refuting those that add works to the gospel, such as the law, and the ceremony of baptism. The Biblical view of grace, faith and the message that saves.
This book is about the gospel and God's way of salvation. How a person is saved from their sin is the subject of this book. Is the gospel something we hear and respond to by faith or something we also need to do by works? What is the difference of religion and relationship. Numerous churches teach that you must be water baptized to receive salvation or to complete your salvation. There are a number of different opinions, all seem to have biblical arguments for their position. However, there can only be one correct way. This book is meant to clarify scriptural misconceptions and point to the saving knowledge of the truth. What is mostly focused on are works and the addition of baptism "baptismal regeneration" as part of the gospel message. It is a strong and thorough refutation on baptism being part of the gospel
233 pages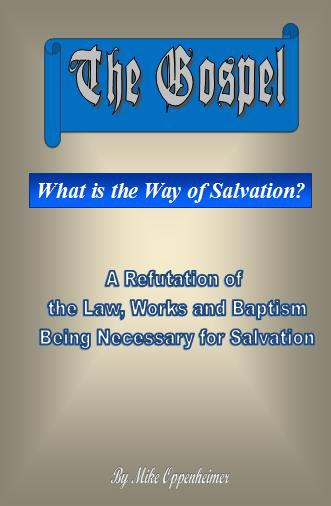 US orders $19.00 includes shipping
Foreign orders $29.00 includes shipping