United in prayer - United in error
The Hawaii churches united in prayer once again this November, 2009. On the Hawaii United in prayer radio program on Nov.25, 2009 (KGU radio) Cal Chinen, the main promoter of UIP, was discussing the success of their praying -- and said the crime rate continues to go down, it is the lowest in the nation. The other host responded that God is hovering over Hawaii, and called the pastors gatekeepers.
Putting aside for the moment the unbiblical concept of hovering, does God hover over a state because churches are uniting in prayer. Before you read this article pray that God will show you the truth, because if you are participating in this gathering your whole world is about to be turned upside down by the facts.
Certainly prayer changes things whether one prays by themself or with others. Prayer is one the most sacred of services and honors a believer can do. However, we are to be discerning in who we unite with in anything as believers; most importantly prayer. I can only wonder why the few good churches would be willing to unite spiritually in prayer with churches that promote false teachings, are cultic; churches that promote Mary as co – redemptrix, churches that promote the false word faith teaching, Dominionism, the Latter Rain movement and the new apostolic movement of Peter Wagner. Churches that have another gospel. This whole prayer concept is connected to the transformation philosophy of George Otis Jr. of the Sentinel Group. Otis is called an apostle under Peter Wagner and so is Ed Silvoso. Coincidence? Hardly, the International Coalition of Apostles and prophets have many avenues to reach inside the church to establish their agenda of control. C. Peter Wagner believes "the government of the church is finally coming into place" and "The second apostolic age began in the year 2001" (see http://www.letusreason.org/Latrain21.htm and also http://www.letusreason.org/Ecumen13.htm).
When you join this prayer movement you are entering to pray with kingdom now, latter rain promoters that believe that the church will rule the earth. They have a completely different view of the church and the end times than the Bible. If you are a pastor involved you need to remove yourself, because You are introducing people into this new false apostolic program, when you should be keeping them from it.
Time is always the enemy of a false prophet and so are the facts. The promoters of this prayer movement would rather you hear nothing than learn of their program they are using to bring the church into bondage with. Cal Chinen has been using Ed Silvoso's model and makes outrageous claims of change. This article will prove his false spiritual warfare model does NOT work.
Chinen's, "United in Prayer" uses this Scripture as a basis to support: "...the new wine is found in the cluster" Isaiah 65:8. Which has nothing to do with unity of the church in prayer. This ministry also makes use of other Scriptures from the old covenant to approve itself. i.e. Blessing and cursings that were for Israel - Deut. 28:1-6. Chinen writes - All these blessings will come upon you - no crime - a healthy economy- a physically and mentally healthy city - competent and honest political leadership that impacts the city. Quoting this Scripture for the Old Testament covenant that was strictly for Israel and applying it to our society shows how far removed this movement in accuracy of their Bible interpretation. Right intentions are not enough when you are completely wrong in your Bible interpretation. How can this yield a godly result and be blessed by Him. You would think that those who know better and teach sound doctrine would not be involved with this movement, but they are. The Transformation campaign by Ed Silvoso promoted in the Islands of Hawaii by Cal Chinen has gathered numerous churches to join in "united in prayer"
* For better understanding on Ed Silvoso please read: An analysis of Ed Silvoso's sermon during the FOP 2006 (5th Aug 2006) http://www.angelfire.com/falcon/ddd_chc82/theology/Ed_Silvoso_FOP2006.pdf
For a list of the Participating churches in Hawaii http://www.epulekakou.com/participating.php?type=churches
Is God approving of those who misuse the Scripture, having deceived themselves and other? That is the question I pose to all. Let's look at the facts, after all they are claiming it is working, by using what is reported in the newspapers.
They posted- Our vision for Hawaii has strengthened - transformation! revival!
As you read the statistics consider this: If they want to attribute the positive to their transformation can we also attribute the negative to their transformation?
To do this lets go back to what THEY posted and take each one of the claims they are using from the newspapers (which by the way is not referenced well). www.uipinternational.com/files/uip2005stats.ppt
Headlines for January 2005:
Hawai'i DUI deaths fall 40%"
Advertiser January 13, 2005
"Hotel occupancy on rise"
Advertiser, Jan 3, 2005
"$1 Billion Resort Announced"
Advertiser, January 8, 2005

"Schools Showing Signs of Progress"
Advertiser, January 6, 2005

"Merchants help Push Crime Off Nu'uanu"
Advertiser, January 6, 2005

"State Lawsuits Down By 13%"
Advertiser, January 3, 2005

"Homeless Problem Is Solvable, State Says"
Advertiser, January 11, 2005

"Job Hopes Rising In Kapolei"
Advertiser, January 9, 2005

"Man Pleads Guilty In Sale of Skull"
Advertiser, January 13, 2005

"Ice Use Plunges For Isle Teens"
Star Bulletin, January 6, 2005
Obviously there are some things mentioned that have absolutely nothing to with anything i.e. "Man Pleads Guilty In Sale of Skull. " What is this supposed to mean in praying for a change in Hawaii? We face Schools shutting down 1 day to have school 4 days a week.
Hawai'i DUI deaths fall 40%"
Oahu had 22 alcohol-related traffic deaths in 1998, compared with 27 the year before. It went down one that year long before Silvoso's transformation plan came to the Islands. The facts do not seem to affect those driving under the influence of this UIP spiritual warfare movement.
In Hawaii, the alcohol related deaths have declined by over 50% since 1982, from a high that same year of 103, to a low of 44 in 1999."
In 2005, 26 of the 72 fatal accidents that year involved alcohol. HAWAII was the deadliest state when it came to traffic fatalities in 2005 involving alcohol use, according to a national traffic safety advocacy group. http://archives.starbulletin.com/2006/12/01/news/story02.html
The fatality rate went up from 2005. While it has fluctuated over the years what matters is how many are driving under the influence, it is way up. 46 traffic deaths in 2008 14 of them were alcohol-related.
In 2006, 63 of 161 crash fatalities were contributed to drivers who had a blood-alcohol level over the 0.8 limit. in 2006 ... Hawaii ranks second nationally in alcohol-related road deaths.
The Boston Globe reported Sept. 3, 2007 that 52 percent of Hawaiian traffic deaths were alcohol-related, the highest rate in the country. http://www.jointogether.org/news/headlines/inthenews/2007/alcohol-a-big-factor-in.html
2007 - By the end of the year, the tally of arrests on O'ahu for impaired driving likely will reach an eight-year high, http://the.honoluluadvertiser.com/article/2007/Nov/30/ln/hawaii711300388.html
2007 66 out of 138 were alcohol related7
Honolulu DUI arrests at highest level in years (2007)
http://the.honoluluadvertiser.com/article/2007/Nov/30/ln/hawaii711300388.html
2008 Oahu arrests for DUIs are up 400 from '07
http://www.starbulletin.com/news/hawaiinews/20090118_Oahu_arrests_for_DUIs_up_400_from_07.html
The number of people arrested on Oahu on suspicion of driving under the influence:
2000: 2,089 2001: 2,166 2002: 2,188 2003: 2,341 2004: 3,009 2005: 3,282 2006: 3,432 2007: 3,921 2008: 4,316 (Source: Honolulu Police Department)
Hawaii is named among the "Fatal Fifteen"-states in which 41% or more of traffic-related casualties are caused by alcohol-related incidents.
I don't see how they claim improvement, it has gone steadily upward – INCREASED.
· Hotel occupancy on rise" Advertiser, Jan 3, 2005
Hawai'i's hotel occupancy tumbles (2007)
http://the.honoluluadvertiser.com/article/2007/Mar/05/bz/FP703050314.html
Hotel Occupancy (2009) Down from 2008 by 1.5%
http://the.honoluluadvertiser.com/current/bz/occupancy
Hawaii Hotel Occupancy 75% http://www.govisithawaii.com/2007/03/30/hawaii-hotel-occupancy-75/
Mar 30, 2007 According to this article, occupancy rates are down in Kauai, Maui, and Oahu, but up on the Big Island. Oahu: 73.5 percent, down 10.3 points. Maui: 78.5 percent, down 8.3 points. Kauai: 65.1 percent, down 0.2 points. Big Island: 79.4 percent, up 10.4 points.
Hawaii hotel occupancy hits lowest monthly rate since 9/11— Hawaii's hotel occupancy rates dropped 6.5 percentage points to 67.1% in October — the lowest figure for any October since the 9/11 attacks in 2001 (12/15/08) http://www.usatoday.com/travel/hotels/2008-12-15-hawaii-hotel-occupancy_N.htm
State hotel occupancy drops to 63%Jan 15, 2009
http://www.starbulletin.com/business/20090115_State_hotel_occupancy_drops_to_63.html
Hawaii hotel occupancy drops to record low July 7, 2009 http://www.msnbc.msn.com/id/31776541/
Monday June 1, 2009 Hawai'i hotels continued to struggle in April, with occupancy dropping for the 14th month in a row.
I don't see how they claim this, it has gone steadily downward – DECREASED.
Could not find anything like this…What is mentioned this year is a 350 million dollar condo hotel with 350 hotel rooms built by trump enterprises
Luxury condo plans put on hold
Honolulu Advertiser - Honolulu, Hawaii ANDREW GOMES, Jan. 28, 2009
Public schools fail to meet federal ranking (2009)
Last week state education officials predicted that more public schools would fail to meet federal goals under No Child Left Behind. The test scores came in and they were right — 66 percent of Hawai'i's public schools are, in fact, failing to meet federal "adequate yearly progress" goals. http://www.honoluluadvertiser.com/article/20090724/OPINION02/907240331/1104
Because a few schools had an improvement one years does not mean their praying was the cause.
There are Foot and bicycle patrol officers, Surveillance cameras. Merchants profits are way down, there is no radical change to claim because of their praying.
Most livable states, where you would think HI would rank near the top, states that HI ranks #19, NJ ranked #5 (go figure) Apparently their prayers are not really making this a more livable place.
http://www.infoplease.com/ipa/A0921975.html
This site HI ranked #29 in livability.
http://www.statemaster.com/graph/lif_bes_sta_to_liv-lifestyle-best-states-to-live
While the promoters of United in prayer boast on how their prayers have changed the atmosphere over Hawaii they selectively use run of the mill news stories. What they won't tell you is that No city in Hawaii made the Top 100 Safest Cities in the U.S. Hawaii had no city in the 100 Most Dangerous Cities in the U.S. but Hawaii had no city in the top 100 safest, so where is this change they claim?
What they didn't tell you is that the state lawsuits have gone down nearly every year which was posted in the same newspaper article, which cannot be attributed to their prayer movement.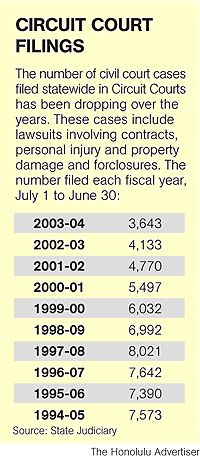 I don't think this is even necessary in our day but it needs to be covered for the sake of their absurd claims. Because employment occurs in one newer town does not prove anything. But again, the facts are against them. Unemployment has had been going down since the mid 90's, it has now hit a 12-year high.
The 6.5 percent figure ties Hawaii for 14th lowest as construction and tourism struggle Hawaii's 6.5 percent statewide monthly unemployment rate for February is the highest it has been since June 1997. Star Bulliten Nov.27, 2009 http://www.starbulletin.com/news/20090328_Unemployment_hits_12-year_high.html
Unemployment is up in all Hawaii counties -- by 0.4 percent in Honolulu, 0.7 percent on the Big Island, 0.4 percent on Kauai, and 0.6 percent on Maui. The number of unemployed rose by 2,600 to 15,500 from the previous ... Hawaii's unemployment is like the rest of the nation, no better.
Where's the great change they boast about? It's NOT happening.
"Homeless Problem Is Solvable, State Says"
Advertiser, January 11, 2005
How does this headline prove their prayers are being answered? It may be solvable and many are doing what they can to relieve those who are homeless (there are 8 agencies) but it has increased. 1.5 million children nationwide experienced homelessness at least once in 2005-2006, Hawaii ranked third in aid to homeless kids. (Star Bulletin, Mar. 11, 2009).
The homeless -2005 sheltered 6,054; 2006 5,950. Unsheltered is a larger problem. 2005 9,794; 2006 9,124, this is 15,074 altogether and this is prior to the current situation. (http://www.hcdch.hawaii.gov/housingprograms/homeless.html#Home Statistics)
I suggest instead of praying about this for results churches should start implementing programs to help. 1,000 people are living in tents along the 13 miles of beaches on the Waianae Coast of Oahu and hundreds in Waikiki.
Again I ask where is this change they claim is happening. Anyone can find individual praise report but to make this into an Island wide transformation is to intentionally deceive the church.
I cannot find any proof of this. Hawai'i stands very nearly at the head of the pack. Only Oregon posted a higher treatment rate than ours.
Last week, there was more sobering news. Two more fatalities were added to the grim roster of lives lost to crystal meth in 2005; already a record number before the addition, the death tally now stands at 87.
2004 - 67 deaths; in 2005 - 87 deaths (Star Bulletin Whatever happened to the war on ice March 7, 2006)
Last year more methamphetamine was seized in Hawaii than any other drug. The Drug Enforcement Administration recently confirmed (Drugs and Drug Abuse State Factsheet, updated June 2007) that "Crystal methamphetamine (ice) is the drug of choice in Hawaii." Hawaii: Ice capital of the U.S.
Honolulu had the highest percentage of crystal meth-amphetamine use among men arrested on the island compared with 30 other U.S. cities last year, (City tops in arrestees on 'ice' By Brandon Masuoka Advertiser Staff Writer November 27, 2009)
What are real statistics that is taking place in the Islands? It's not anything what UIP claims. They are using selective headlines to promote their agenda and influencing pastors first and then the people to sail away with them in a self promotion that is a spiritual fraud.
CRIME
Monday, December 18, 2000
Isles' rate of violent crime by juveniles drops, but property crime is still higher than the national average, a state official says
Youth arrests decreased by more than 25 percent in the past two years, with the number last year falling below 3,000, compared to 4,000 in 1998.
Police see 'significant' drop in Oahu crime- Thursday, October 30, 2003 Overall crime declines by 8 percent this year, Chief Donohue says.
Donohue said that from January through August, overall crime has decreased a total of about 8 percent, noting it was "significant" because crime on Oahu in 2002 went up 18 percent from the year before.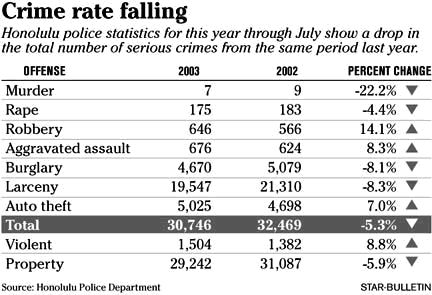 HPD officials had crime statistics only through July available for the media. According to those numbers, violent crime on Oahu went up 8.8 percent for the first seven months of the year, while total crime was down 5.3 percent.
The same report also showed that Hawaii's overall property crime rate remained among the top three states, dropping from second highest in 2001 to third highest in the nation in 2002 with 5,782 reported cases per every 100,000 residents.
Also yesterday, the Department of the Attorney General released its annual Uniform Crime Report, which showed that the state's crime rate per 100,000 residents increased 12.2 percent from 2001 to 2002.
But the report noted that serious juvenile crime in Hawaii reached its fifth consecutive record low in 2002, with 2,499 arrests reported statewide. According to attorney general officials, Juvenile Index Crime arrests ranged from 4,000 to 7,000 annually during the 1975-1997 period. The number of arrests has plummeted in each subsequent year since 1997.
"While there have been crime rate increases during the last three years, the increases are based upon Hawaii's unprecedented low crime rates during the late 1990s," said state Attorney General Mark Bennett. "And while the 2002 crime rate is somewhat higher than historical averages, it is also below the level reported 10 years ago."
According to the attorney general's report, the state's violent crime rate per 100,000 residents increased 2.7 percent while the property crime rate increased 12.7 percent.
Property crime risk in Honolulu is almost double that of Portland OR, at 298 to 161. HI overall is higher property crime rate than OR.
http://www.moving.com/real-estate/compare-cities/results.asp?Zip1=96813&Zip2=97201&sbmtZIP=Get+Report
2003 FBI Report of Offenses Known to Law Enforcement
Honolulu Violent Crime Rate per Capita:
Murder is 0.22 times the National Average
Forcible rapes Is 0.81 times the National Average
Robbery is 0.50 times the National Average
All violent crime is 0.48 times the National Average
All property crime is 1.21 times the National Average
Aggravated assaults is 0.41 times the National Average
Burglary is 1.03 times the National Average
Larceny and theft is 1.19 times the National Average
Car theft is 1.52 times the National Average
US States Crime 2004 -2005 Crimes per 100,000 and Ranking
Hawaii Violent crime per rate 100,000 2004 - 254.6 ranked 41; 2005 - 255.1 ranked 42
Murder and non negligent manslaughter in 2004 ranked 39 in 2005 ranked 47
Forcible rape Hawaii in 2004 26.4 ranked 40, 2005 26.9 ranked 37
Motor vehicle theft Hawaii was 6 in 2004, in 2005 they moved up to 5th
Burglary Hawaii was 15 in 2004 and went to 16th 2005
Property crime Hawaii was 4th in 2004 and went to 5th in 2005
2004 Hawaii was number 2 in larceny and theft, in 2005 Hawaii became number 1 in the nation
Motor vehicle theft and rape are higher than Los Angeles in 2008 (which has a greater population.)
http://tools.gmsrelo.com/ToolsFas/Tool_CrimeSurveyCity.asp
FBI crime in the US statistics http://www.fbi.gov/ucr/cius2008/data/table_04.html
Auto theft- 2007 6,715; 2008 5,133
Violent crime- 2007 3,501; 2008 3,502 - went up
Murder- 2007 22; 2008 25 - went up +13.6%
Forcible rape- 2007 326; 2008 364 - went up +12%
Robbery- 2007 1,105; 2008 1,086 (went down slightly)
Star Bulletin Sept 15, 2009 reported Violence up, theft down (source FBI) 2007-2008
Property crime
2007: 54,228. 2008: 46,004 - down 15.2%
Violent Crime
2007: 3,501. 2008: 3,512 +3 %
Recent statistics - - did anything change because of their prayer movement from 2005- to the present?
Murder- 2008 25 - (murder was 7 in 2003)
Forcible rape-2008- 364 - (rape was 175 in 2003)
Robbery- 2008 1,086 (robbery was 646 in 2003)
Violent Crime -2008: 3,512 (Violent Crime in 2003 was 1,504)
NEARLY everything we would be concerned with went up since 2005 - where's the results of their prayer movement?
the crime stats for Hawaii since 2000:
http://www.disastercenter.com/crime/hicrime.htm
Population increased by 76,661 from 2000 to 2008. Violent crime increased from 2,954 to 3,512 (16% increase). Forcible rape increased from 346 to 365 (6% increase). Aggravated assault increased from 1450 to 2036 (29% increase). The population grew from 2000 to 2008 by approx 6%. So violent crime and aggravated assault are way above the normal increase we would expect to see from population growth.
Honolulu, HI and Los Angeles are way above the average crime number of 3 (on a scale of 1-10) for both violent crime and property crime. Honolulu was above Los Angeles in both categories scoring a 6 for violent crime and an 8 for property crime. LA had 7 and 6 in those categories.
[ based on FBI data]
http://www.bestplaces.net/crime/?city1=51517000&city2=50644000
The crime index ranges from 1-10. A higher number corresponds with more crime, based on FBI data.
Honolulu Violent crime 6 compared to San Diego also 6, LA 7.
Honolulu property crime 8 compared to San Diego 6, LA 6.
Average in US is 3.
The crime indices range 1-10. A higher number corresponds with more crime. Our crime rates are based on FBI data. http://www.bestplaces.net/crime/?city1=51517000&city2=50644000
NeighborhoodScout's Top 100 Safest Cities in the U.S. (Population 25,000 or more)
Hawaii ranks #1 as the most taxed state
http://www.statemaster.com/graph/eco_tot_tax_bur-total-tax-burden-per-capita
Hawaii ranks #16 in abortions per capita
http://www.statemaster.com/graph/hea_abo_rat-health-abortion-rate
Hawaii ranks #20 in AIDS cases
http://www.statemaster.com/graph/hea_aid_cas_rat_all_age-aids-case-rate-all-ages
Hawaii ranks #2 in alcohol related deaths
http://www.statemaster.com/graph/hea_alc_rel_tra_fat_as_a_per-alcohol-related-traffic-fatalities-percentage
Hawaii ranks #1 in the drug Ice
Hawaii State job growth fell 3.7% in August 2009 from a year ago; national job growth fell 4.4%.
State unemployment averaged 7.2% in August 2009; the national average was 9.7%
Personal income fell 0.4% to $54.2 billion in Q2 2009 from a year ago.
Tax revenue fell 16.2% in Q2 2009 from the previous year.
Exports fell 39.8% to $247 million in the first seven months of 2009 from a year ago.
I could go on and on. WHERE'S the TRANSFORMATION? The facts prove the "transformation promoters" selectively pick out what sounds favorable, that can prove their agenda, and completely ignore other serious factors that show there is no improvement in these areas. Hawaii compared to other states is worse off in a number of areas that should be changed if God is really moving here AS THEY CLAIM. The fact that a certain crime goes down in areas that they have not prayed for proves you cannot attribute it as a success from prayer. You cannot use this as proof that certain people praying a certain way is the reason.
Where are they getting their facts? Not from the newspapers as they imply. As we have seen, statistics will fluctuate 1-10% from year to year. But to say these things went down because of THEIR PRAYING is really not provable by the facts, unless one can prove they specifically prayed for this in a particular city and each city they prayed for it was the same outcome, otherwise you cannot make this claim, it is false.
Where's this incredible transformation they are attributing to their prayers in the areas we need to have improve?
Cal Chinen says of Hawaii, the crime rate continues to go down, it is the lowest in the nation.
The News Facts say otherwise. New Jersey boasts three of the nation's safest and most secure metro areas: ("Sperlings best places")
New York City is heading toward its lowest number of murders in almost 50 years, and overall crime is also down, the New York Police Department said Friday.
Murders this year are the lowest total since the department first started keeping records in 1962. http://www.1010wins.com/pages/5249148.php?contentType=4&contentId=4716077
N.H. Receives Lowest Crime Ranking; Nevada Ranks as Worst State March 25, 2009 http://www.insurancejournal.com/news/national/2009/03/25/99012.htm
Hawaii is ranked 23 by The 2009 State Crime Rate Rankings, we are not the lowest as Chinen stated on the radio http://os.cqpress.com/rankings/CrimeStateRankings_2009.pdf
Time is always the enemy of the false prophets - so are FACTS. So if they want to attribute the positive to their transformation prayers are they willing to attribute the negative to their transformation? Certainly pray changes things, but no amount of prayer can change the facts that show they are not telling the truth to their followers of this spiritual warfare agenda. This is like global warming, the temperatures fluctuate except this is manmade, and results they give is also a hoax.
Those involved in united in prayer --Francis Oda, Cal Chinen, Art Supulveda and James Morroco (with others) may be trying to self fulfill Cindy Jacobs prophecy who claimed the Lord told her that Hawaii would be the first entirely Christian state - everyone would be saved. On Hawaii's TBN program Ed Silvoso said, "Hawaii has been prophesied by reliable prophets that it will be the first Christian state in the union. I believe that" (January 31, 2005 TBN Hawaii, Cal Chinen interview). Virginia Domligan of the Prayer Center of the Pacific stated, "Over ten years ago, under the divine unction of the Holy Spirit, Cindy Jacobs of Generals Int'l stood on a platform at Aloha Stadium and declared that the State of Hawaii would become the FIRST Christianized state in the U.S.! This is the will of God for Hawaii!" (read www.letusreason.org/Popteac32.htm)
Many people in Hawaii are hurting and Cal Chinen and his transformation cohorts are not the solution. Yes, we should pray but not with those who claim change when there is no change (Jer.6:14;8:11). Much of this is like the promise of change from politicians when there is none.
Its neither good or right to pray with those lie about the results of their prayers, we are not to unite with them.
This movement is built on a lie, does this mean praying is ineffectual, not at all. Again, we as believers, and especially the pastors, need to exercise BIBLICAL discernment and not get involved with those who are in obvious error and want to take credit for anything good that may occur. Be aware that if your church does adopt this they will be compromised.