Isaiah speaks to us today: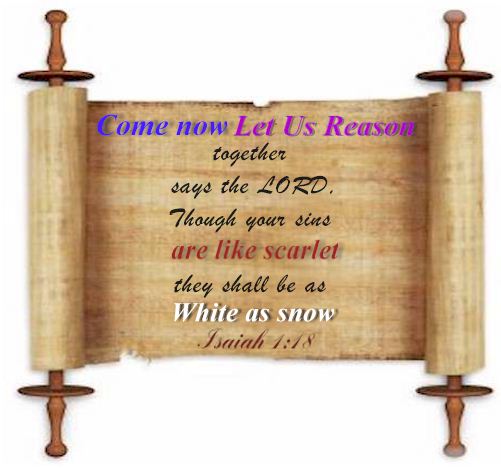 God invites unreasonable people to reason with Him. It is God that initiates the conversation.

What does the Lord Jesus have to say about your condition in life? If we see ourselves correctly it will help us understand the world around us. We are flawed, imperfect and practice what is not conducive to God, He calls it sin. God can diagnosis our condition and it is all the same in various degrees.

To Israel he spoke by the prophet Isaiah. 1:16-20 "Wash yourselves, make yourselves clean; put away the evil of your doings from before My eyes. Cease to do evil, Learn to do good; seek justice, rebuke the oppressor; defend the fatherless, plead for the widow. "Come now, and let us reason together," says the LORD, "Though your sins are like scarlet, they shall be as white as snow; though they are red like crimson, they shall be as wool. If you are willing and obedient, you shall eat the good of the land; But if you refuse and rebel, you shall be devoured by the sword"; for the mouth of the LORD has spoken."

No one likes to be told how to live. Today our society lives by the motto I'm OK, your OK. That all is relative and nothing that we do can be wrong. We have accepted what is called cultural relativism. That each of us have our own truth, and that everything we do is acceptable. We decide what is right or wrong in our eyes. Thus history is repeating itself. Ancient Israel had a problem that we have today. Judges 17:6 "In those days there was no king in Israel; everyone did what was right in his own eyes." This is repeated in Judges 21:25. The Lord speaks to mans high opinion of himself in the book of Wisdom

Prov. 3:7 "Do not be wise in your own eyes; fear the LORD and depart from evil."

Prov. 21:2 "Every way of a man is right in his own eyes, but the LORD weighs the hearts."

Prov. 26:12 "Do you see a man wise in his own eyes? There is more hope for a fool than for him."

We live in age where this is way of life, those who reject God, even those who accept God but do not want to live by his ways. It is the same message repeated to man over and over.

What we have is a classic case of what Isaiah was dealing with in his day among those who were under God's rulership and protection Isa. 5:20-21 "Woe to those who call evil good, and good evil; who put darkness for light, and light for darkness; who put bitter for sweet, and sweet for bitter! Woe to those who are wise in their own eyes, and prudent in their own sight!"

God began his letter by the prophet by offering to bring to a conclusion what their condition is, by cleansing them. He first asks them to change, repent in doing evil – then they can listen to His words.

The Bible explains that the wages of sin is death, you earn dividends for your sins unless you take God's solution. There is day when the payment will be distributed; God will require an answer on your life.

There are two types of death, physical and spiritual. Science says that your body is worth $2.98 according to the market value of the chemicals we are made of. However, according to Jesus our soul, which is not the body, is worth much more and God puts highest value on it. He asks "What will a man give in exchange for his soul? What if you were to gain the whole world and lose your own soul?"

Why does the world hate Christians? They don't know God. They are tolerant of everything except that one thing- Jesus and His Word. This is how you know they know God. "They are of the world. Therefore they speak as of the world, and the world hears them. We are of God. He who knows God hears us; he who is not of God does not hear us. By this we know the spirit of truth and the spirit of error." I Jn. 4:5-6

They don't want to listen to his representatives speak the truth, just as they didn't want to listen to Noah in the day of judgment that took place. We are moving forward to the that day of judgment the Lord spoke of in Isa. 1:24 "Therefore the Lord says, the LORD of hosts, the Mighty One of Israel, "Ah, I will rid Myself of My adversaries, and take vengeance on My enemies." The world will experience the Great tribulation

God loves the sinner, the individual person is whom he cares of but he wants the sin we live in to be removed. He wants us safe, he wants to protect us from ourselves and harm from others. We exhibit the same care as we protect our children from harm when they are growing up. Sin erodes our moral fiber as individuals, (being made in the image of God) as well as our society. The more one sins, the more acceptable it becomes and they eventually are brought into bondage, doing the will of the devil (who always goes against God and His ways). In a culture, sin will continually increase its activity as more people participate until it comes to a point where deception takes over. When it is distributed through various outlets it affects a whole society and changes its course where it falls into God's hand of judgment. It did in Noah's day and it is repeating in ours.

We live by our own standards, but sometimes our standards affect others. Can we all do whatever we want? This is why there are laws. Think about it, if we can all do whatever we want then where is the line we are not to step over? We all have made lines for other people in our lives, and they for us. What is unlawful, sin for you may not be not be another persons same standard. So you could not say it is wrong if they brought any harm to you. Because you are each living by your own standard. Why would raping or molesting a child be wrong if someone else accepts it as their own standard? If we all measure our morals by what we feel is right, doing what is right in our own eyes, then when someone does harm to another human being it may not be wrong to them; it is wrong by your standard, not theirs.

This is why truth cannot be shaped by an individual or culture. There MUST be an ultimate standard for our human behavior, our morality. And there is. First we were made in the image and likeness of God, we have a conscience that will tell us what offends another human being. When we defile this conscience, by not listening to its voice, it becomes dead, unusable. We also have the moral law of God which tells us explicitly what is right or wrong. It mentions lying, killing, adultery, etc. it makes evident what we are doing wrong with a visible standard.

You may be saying, I'm a good person I don't do these things. I've never killed anyone or committed adultery. God also requires truth on the inward parts. The Bible says there is none that do good; that is not our natural inclination. Even if you have not physically done any of these particular sins, Jesus speaks of our thinking these things. Have you ever become so angry at someone, or lusted after someone in your mind. This is where it all begins before it takes place physically. If you are honest with yourself, you can see that you are not as pure as you think you are, you have what God calls a sinful nature. You are not unique in this, we all do.

If we measure ourselves by ourselves; we can always find someone worse off than us. What if I held up a scale with good works against your bad works, you may be in good standing. But what if I held up another scale of your good works and compared you to the real standard, Christ. You cannot be as confident.

Did you ever see the stacks of papers congress has to read to pass a bill? Imagine every time you have sinned not only in action but in thought, it is recorded. If it were on paper, how big a stack of papers would that be? This is exactly what the Bible says is in our future- the judgment. In Rev. 20:12 "And I saw the dead, small and great, standing before God, and books were opened. And another book was opened, which is the Book of Life. And the dead were judged according to their works, by the things which were written in the books. The sea gave up the dead who were in it, and Death and Hades delivered up the dead who were in them. And they were judged, each one according to his works."

Paul writes that we will all be judged according to ones works in the body by this one life we lived and after this judgment (Heb.9:27-28). This is the 2nd death, anyone involved in this is not "in Christ" and God will determine the type of punishment one will receive. It's all the same destination – only different variations of punishment. Yes God does judge, because he is just and righteous and perfectly good.

Some say that My god is a god of love, he would never create a hell or send anyone there. So you think everyone, no matter how evil they are will go to heaven? Does that really make sense to you? You don't associate with the people that don't like you in life; you don't let them in your house. Do you think God will welcome and will associate with those who hate him and his family?

The god of this kind of love is a figment of ones imagination, He doesn't exist. He is created in mans own image of whom you want him to be. And this is no surprise, after all Jer. 17:9 tells us "the heart is deceitfully wicked," (incurably sick). And this sickness comes from an original source, sin, we all have it.

Sin

is the fatal disease that we all share. Sin is something our society does not believe in nor want to hear about. It has become the dirty word instead of the filthy words that come from peoples mouths. But all one has to do is look around us to see the activity and expression of what sin is. Murder, acts of inhumanity, even to those of their own flesh and blood. It

'

s man

'

s sin showing, expressing itself in peoples lives, and it can get real ugly. It will become far worse as we move toward that day where God will judge the world in righteousness by the Man whom He has ordained," (Acts 17:31)"in the day when God will judge the secrets of men by Jesus Christ" (Rom. 2:16).

If we go to a doctor because we are having pain and have an x-ray it reveals something is seriously wrong with us. Do we get mad at the doctor for telling us the results that the x-ray revealed? Is that rational, do we never get another x-ray because it showed us our sickness! Or are we thankful that it showed what is there so it can be cured in time. Noah tried and they refuse to listen, he was laughed at for building a boat. Today Christians are being laughed at for telling people judgment is coming. Time is running out again.

God the creator is the only one capable of fixing what is broken in man. We need the great physician who made man to apply the cure he gave. There is only one universal remedy to cleanse us from guilt and shame that comes from sin. God has given mankind the blood of Christ as the cure to remove the innate problem of sin. There is only one way out. Jesus has the cure for our disease of sin. Jesus said it is not those who are healthy who need a physician but those who are sick. The self righteous don't see their need for outside spiritual help. They believe they can help themselves, a fatal mistake of judgment. Only those that see their sickness and their need of his cleansing from sin are willing to go to the great physician and ask for the cure.

Jesus called out in Mt.11:28 "Come to me all you who labor and are heavy laden, and I will give you rest. Take my yoke upon you and learn from me, for I am gentle and lowly in heart, and you will find rest for your soul For my yoke is easy and my burden is light." Many try to do what is right. But they are left to their own opinions to find what is right. The answer is Jesus, his person and completed work done for you.

Without the shedding of blood there is no forgiveness of sin. We can't cleanse ourselves.

Isa 1:18-20 "Come now, and let us reason together," says the LORD, "Though your sins are like scarlet, they shall be as white as snow; though they are red like crimson, they shall be as wool. If you are willing and obedient, you shall eat the good of the land; But if you refuse and rebel, you shall be devoured by the sword"; for the mouth of the LORD has spoken." God will make your sin pure by his life given on the cross.

God, out of love has done everything he can without violating our free choice. He is pursuing you, even though you may not be thinking of God. He is pursuing you because of his love and wants to have mercy on you, that you may live in His grace.

1 Cor. 1:19-21 For it is written: "I will destroy the wisdom of the wise, and bring to nothing the understanding of the prudent." Where is the wise? Where is the scribe? Where is the disputer of this age? Has not God made foolish the wisdom of this world? For since, in the wisdom of God, the world through wisdom did not know God, it pleased God through the foolishness of the message preached to save those who believe."

1 Cor. 2:6 "However, we speak wisdom among those who are mature, yet not the wisdom of this age, nor of the rulers of this age, who are coming to nothing."

1 Cor. 3:18-20 "Let no one deceive himself. If anyone among you seems to be wise in this age, let him become a fool that he may become wise. For the wisdom of this world is foolishness with God. For it is written, "He catches the wise in their own craftiness"; and again, "The Lord knows the thoughts of the wise, that they are futile."

The choice is the wisdom of this age or the wisdom God offers

Ps 37:28-30 "For the LORD loves justice, and does not forsake His saints; they are preserved forever, but the descendants of the wicked shall be cut off. The righteous shall inherit the land, and dwell in it forever. The mouth of the righteous speaks wisdom, and his tongue talks of justice.

Ps 111:10 "The fear of the LORD is the beginning of wisdom; a good understanding have all those who do His commandments."

Prov. 1:20-29 "Wisdom calls aloud outside; she raises her voice in the open squares.

She cries out in the chief concourses, at the openings of the gates in the city she speaks her words:

"How long, you simple ones, will you love simplicity? For scorners delight in their scorning, and fools hate knowledge. Turn at my rebuke; surely I will pour out my spirit on you; I will make my words known to you. Because I have called and you refused, I have stretched out my hand and no one regarded,

Because you disdained all my counsel, and would have none of my rebuke, I also will laugh at your calamity; I will mock when your terror comes, When your terror comes like a storm, and your destruction comes like a whirlwind, when distress and anguish come upon you. "Then they will call on me, but I will not answer; they will seek me diligently, but they will not find me. Because they hated knowledge and did not choose the fear of the LORD."

What Jesus does is from the inside out, what man does is from the outside which can never affect our fallen nature inside. Religion gives us rules & regulations to live by, Jesus reforms us from the inside.

The bible says no one seeks after god but he is seeking after you, not to bring you into bondage but into freedom from darkness into light.

Every one of us has different abilities of strength and weaknesses. If salvation were up to our own ability it would be like swimming across the Pacific ocean to the mainland. Some of us would make it a mile some several miles maybe someone would make it a hundred miles but you can be sure that no one would make it on their own to the mainland.

Man from the time of Adam has become a sinner by nature. We do not become sinners because of what we do . we sin because that is our nature it is an outward expression of who we are. We sin because we are sinners by nature only Adam sinned by choice and all of mankind comes from Adam. This does not discount that we can do good no matter what religious persuasion we are or even if one is an atheist. However as we will see it does not merit right standing before God.

We often hear the only sin that condemns people, is the sin of rejecting the gospel. This incorrect, as it minimizes the seriousness of the other sins that men have committed back to Adam. There can be no doubting the fact that the sin of rejecting Christ and the gospel is a unique sin, but it isn't the only sin that condemns people. One reason that it is such a serious matter to reject Christ and the gospel is because rejecting Him means rejecting God's only plan of salvation and choosing to die in your sins. I'll quote what Jesus said in John 8:24, 'Therefore I said to you that you will die in your sins; for unless you believe that I am He, you will die in your sins.' In John 8:21 he said, 'you will die in your sin.'

If you are looking for what love truly is Rom.5:7-8 for it is a extraordinary thing for one to give their life for an upright man, perhaps for a good man someone would dare to die for, but god demonstrated his love for while we were yet sinners Christ died for us."

There is a story about a judge who was very strict he always went by the law did not compromise one iota. There came a day when one of his sons was brought before him…he took off his robe as a judge and said I'll pay the penalty in his place. You are that son if you choose to be. Give your life over to him today let him forgive your sins and give you new life. You'll either like the solution to your problem or the problem.

We are told the Old Testament is there for our example, so that we can learn from there mistakes.

Jesus can either be your judge or your savior the choice is yours. God ask Israel to choose life or death

Christianity is the only world view in line with the reality we live in. We do not live in a world of illusion, this is real and there are consequences for doing wrong. Not just in this life but the life after.

Acts 1:3 He also presented Himself alive after His suffering by many infallible proofs, being seen by them during forty days and speaking of the things pertaining to the kingdom of God." these were written down

2 Pet 1:16-17 For we did not follow cunningly devised fables when we made known to you the power and coming of our Lord Jesus Christ, but were eyewitnesses of His majesty.

For He received from God the Father honor and glory when such a voice came to Him from the Excellent Glory: "This is My beloved Son, in whom I am well pleased."

Archeology

- has proven the Bible is historically accurate. Skeptics and academia insist it can

'

t be accurate. They show they are prejudice of the content not dealing with the evidence.

Manuscripts

there is more manuscript evidence than for any other book of ancient antiquity. If you believe the Roman empire existed …Interestingly they always criticize the bible but they won

'

t do the same for the other manuscripts of other books. The N.T.bible was written starting within 20 yrs of christs resurrection.

prophecy

Jesus fulfilled 300 prophecies for his 1st coming and there are twice as many for his 2nd coming. No other book has prophecies 700 or more years ahead of its time.

2 Pet 3:2-9that you may be mindful of the words which were spoken before by the holy prophets, and of the commandment of us, the apostles of the Lord and Savior, knowing this first: that scoffers will come in the last days, walking according to their own desires, saying, "Where is the promise of His coming? For since the fathers fell asleep, all things continue as they were from the beginning of creation." For this they willfully forget: that by the word of God the heavens were of old, and the earth standing out of water and in the water, by which the world that then existed perished, being flooded with water But the heavens and the earth which are now preserved by the same word, are reserved for fire until the day of judgment and perdition of ungodly men."the evidence of the flood is literally everywhere.