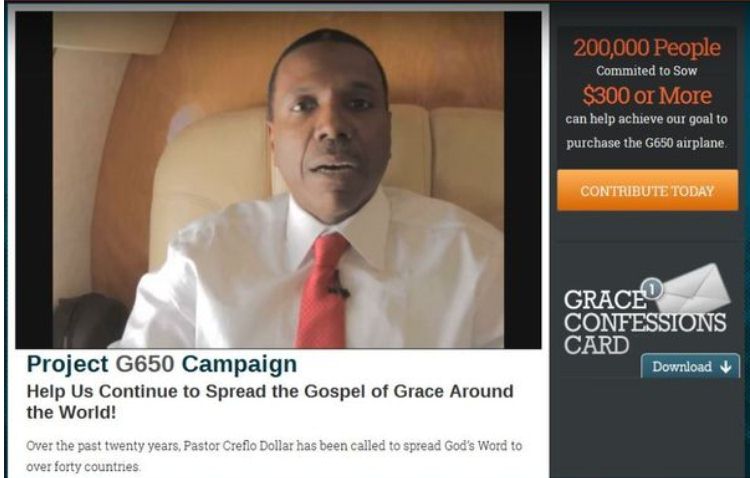 His old jet was built in 1984 and purchased in 1999, and they have logged 4 million miles. We are told that one of the engines failed on a recent trip, but the experienced pilot was able to land safely and no one was injured. (why depend on that when you can speak forth the landing?)
Creflo has now decided he needs $65 million. He tells the potential contributor's what to give. "We are believing for 200,000 people to give contributions of 300 US dollars or more to turn this dream into a reality—and allow us to retire the aircraft that served us well for many years."
The G650 is the biggest, fastest, most luxurious, longest range and most technologically advanced jet -- by far according to the builders.
Creflo is not asking for just an upgrade but for the best, after all he's a word faith prosperity teacher who must keep up with the Copeland's, Hinn, and Meyer etc..
So will his god give him what he wants? Or, did Creflo's faith fail him because he could not speak this jet into existence.
Creflo has said "You are sitting in a building. That manifested because of so great faith."(10/4 /99)
So Creflo got his building not because of God but attributes it to the power of his own belief. so why not his jet?
Creflo tells us he has control over the weather and circumstances "I bind you, satan. I bind tragedy, I bind car wrecks, I bind cancer, sickness and disease. I release miracle healings."( first service Our Equality with God Through Righteousness Creflo Dollar 1/21/2001)
Does being a little god have its limits?
"Faith is the stuff that we use to get the stuff that we need. That's what faith is."… "But without faith stuff, you have no stuff, because faith stuff is the stuff of all stuff. Take away the faith stuff, you ain't got no stuff. Get the faith stuff, and you can get some more stuff, because you got the main stuff. Now, did you get all that stuff? (Changing Your World, Sept. 20, 1998)
After all, "words are nothing but containers. (Changing Your World program, Sept. 20, 1998) where's his hubris now?
He teaches others to, "put your faith before your eyes, your faith in your ears, your faith in your mouth you get your faith in your heart, faith will bring the stuff that you've been believing for out of your heart and will break through the door of this physical natural world"
Maybe he can find a fish with an ancient coin in its mouth that's worth millions. Maybe he only has faith for the lesser type planes and not the newer ones. Why does he ask the people for his support? He needs some fresh faith: or did he forget what he spoke into existence?
I don't think he forgot, he knows he can't get this by his faith, he can only use his mouth to solicit others.
Chuck Grassley In 2007 was a ranking member of the Committee on Finance. They launched an investigation into the financial records of six televangelists which included Dollar; Mr. Dollar did not comply.
Dollar's salary is not known (most evangelists in the prosperity movement near 100 million a year, give or take a few mill), but according to The New York Times, Dollar's Atlanta church operation has an $80 million annual operating budget. It is reported Dollar has a net worth of $27 million. Dollar and his wife, Taffi Dollar, have two Rolls Royce's and multiple multi-million-dollar homes (they sold one New York City apartment for $3.75 million in 2012.)
Looking this up on the search engines there are over 2 million related articles , if only he could capitalize on them 2 million time 35 dollars would get him his jet. Putting aside my jocularity, this should be seen as spiritual malfeasance for someone who claims to be an evangelist.
Trying to exchange his private jet for a newer model without sacrificing from his own lifestyle should be an obvious red light. No one should live like this on the backs of their givers. Considering his track record, Creflo will probably get what he wants … but will it have come from God?