Bearing fruit that will last

One thing we all face is discouragement and the fire going out in our lives. There is no quick fixer upper and anyone who offers or promises this is lying. Following Christ can be extremely hard at times, especially of one is faced with going against the tide of the world. It is at this time our faith is put on the line.

In Mt.13 Jesus gives a parable saying that our fruitfulness would depend on the soil of our heart. He gives 4 examples of which only one would have any type of yield.

There are three ways Satan uses to steal or destroy the seed of God. Jesus says he comes immediately and takes away the word that was sown in their hearts'. These are people who are unbroken and stubborn, Satan's kingdom opposes the truth of God's word, and brings doubt and distortion. They are described as birds who are able to snatch the seed that has not sunk into the persons heart. This is Satan's immediate action to prevent the person from pursuing truth or acting upon the light given.

Then there is a heart that is not deep, this heart rejects the life of the word because it is hard ground. There is no root, a root is something we can't see it is hidden underground invisible to our eyes. If a tree has no root it can't grow and find its source for nourishment. What we can see is what the tree produces in fruit, so we know that the root is good and receiving nourishment. Jesus explains what started off with gladness and as growth is hindered because of the word's sake. Instead of being full of joy they would have been better with repentance and a broken heart. What they hear is not comprehended nor applied.

Then there are the cares of the world the deceitfulness of riches, and the desires for other things entering in choke the word, and it becomes unfruitful. Things that are necessities can become priority, and distract ones focus from their heavenly calling. They lose interest in Spiritual matters trading in as Esau, their promise for a temporal appetite. The desire for riches and material thing's is today is no different then when Jesus spoke this.

There was only one type of soil that brings fruit with different gradations- 30, 60,100 fold. Mark 4:20: "But these are the ones sown on good ground, those who hear the word, accept it, and bear fruit: some thirtyfold, some sixty, and some a hundred." Luke adds in 8:15 But the ones that fell on the good ground are those who, having heard the word with a noble and good heart, keep it and bear fruit with patience." Those who hear the word, accept, understand it and do it (Mt.13:19,7:24-28) are the ones with good soil.

The soil is a receptive heart, those who submit as clay in the potters hands who allow him to wound them and heal them his way, become fruitful plants in the Lords Garden. To be fruitful means we have a heart change for without it God cannot work through us to others, we must change before we can expect others to from our message. They need to see Jesus as well as hear him, this means the fruit of the Spirit must be seen.

Jesus said I have appointed you to bear fruit and that abundantly 30, 60, 100 fold. So why isn't everyone fruitful? It depends on our dedication. What we put in to our Christian walk often reflects what we get out of it. It is matter of devotion as Paul put it "pure devotion to Christ." We grow by our obedience and we backslide by knowingly being disobedient or not allowing the Holy Spirit to change us. We resist change. Yet there is a solution for anyone who is in this position, repent and return to their first love. Remember how it first was when you started to know your savior and allowed him to be Lord of your life and go back to that. When we received Christ and were forgiven by his work on Calvary our destiny changed and we knew it with our whole being. We became new creatures like a newborn baby we began to grow. We were experiencing a learning process of new things, and it was exciting. Everything we did was fresh and we were in awe of what God was doing. We loved the fellowship, we loved reading the bible we loved to be servants. But things happen, maybe you had a fall out with another person or you saw something you didn't like and you started to drift away. Your heart became hardened and you were removed from your first love not because of Jesus but because of people and circumstances. But God is faithful even when we are faithless, He calls us back to himself, we need to listen and respond.

There is another element of the good seed that Luke mentions " having heard the word with a noble and good heart, keep it and bear fruit with patience." (Lk. 8:15) Patience is needed to see fruit form on a tree, it never happens overnight. The fruitfulness depends on the soil which Christ said is our heart. As we receive the word which gives salvation by having a soft heart the seed can grow. But we need to continually keep our heart soft otherwise the word will not do what its suppose to. We need to continue to have the soil softened by watering it with the word.

The writer of Hebrews states: "We have need of endurance for after you have done the will of God you may receive the promise" (Heb. 10:36). In other words we need to be faithful to the end. To have faith means one will be faithful in doing God's will. This has nothing to do with the faith of the word faith movement that makes people covet things and get what they want and actually choke the word. It has every thing to do with the faith of suffering and carrying the cross. The doctrine we practice will shape our spiritual life. It can make us more productive and fruitful. Or it can lay us to waste and make us become barren and even shipwrecked. If we take in teaching that is false, it does affect our spiritual well-being and how we live our lives. In the end it will matter whether we are fruitful in a biblical way or whether we were doing things our way with some success in the results. I want fruit that will remain, and I'm sure you do as well. As the parable states to be careful how you hear. What goes in by the eyes and ears shapes us, we have all kinds of unholy influences on us each day even inside the Church. Ps.119:11 thy word I have hid in my heart," David preserved himself by cherishing the word, having it ready to be used when necessary.

Many seem to think fruit is limited to success in ministry, the bigger the meetings, the more commitments the more one is fruitful. Success is not measured by numbers which can be misleading, but by faithfulness and true disciples that go forward in their walk. Take for example Jeremiah who had very little results as we would measure it, but was successful according to God, because he was faithful in his calling. Like Esther if we don't respond to our call he will find another but he will do all he can to have us to do it. Age does not matter as the bible clearly teaches. Whether it's Abraham who has a son at 100, Moses who started to be a leader at 80 extending to 120 years, or Jeremiah called at a young age. God will call who he wants to share in accomplishing His purposes. He is looking for a willing heart someone who really wants to do his will and give God the glory.

As Eph 2:10 explains God's plan in our salvation "For we are His workmanship, created in Christ Jesus for good works, which God prepared beforehand that we should walk in them." God had things in his mind before we were created before the universe was. He will moves us into His position if we don't already know what it is. He will show it by our circumstances, the people he puts around us to minister to and it will be confirmed in our devotions in the word. But first we go through a wilderness journey first before we can be useful. He prepares His person and the ministry by trials. We all must first go through a BODD, a backside of the desert degree. The greater the trials- the more God is working on the individual toward a greater scope or effectiveness in ministry. Heb.11 shows us all the people who were used greatly suffered greatly. God brought Israel into the desert to die to themselves so they could be reborn nation of faith, but they resisted and rebelled and so all but two died physically (Deut.8:2, 16). God's purpose was to do good and strengthen them in trust toward him. The only two who made it into the promised land were the two who had not failed in faith Joshua and Caleb. They endured in faith despite the circumstances. Before Jesus was anointed to rule and be exalted to have the name above all names He suffered and was anointed to die.

Then there are those who have been doing ministry for many years and suddenly are seeing their scope of effectiveness wane. Just as a tree that will bear an abundance of fruit it must be pruned back. This process is never without pain, but fruitfulness has its seasons. And sometimes one need's to decrease before we can branch out. God shapes us as the clay. He puts pressure and sometimes takes to cutting off pieces, or puts hard pressure because of unyielding on our part. We should not be discouraged from this process because it is done out of love, it is done to make us all more fruitful. Patience is necessary in bearing fruit and none of it comes overnight, but when it comes it remains. James 1:3-4: "knowing that the testing of your faith produces patience. But let patience have its perfect work, that you may be perfect and complete, lacking nothing." As Jesus said in the parable "bear fruit with patience."

So how do we as believers bear fruit? By faith and obedience. Ps.1:1-3: "Blessed is the man who walks not in the counsel of the ungodly, nor stands in the path of sinners, nor sits in the seat of the scornful; But his delight is in the law of the LORD, and in His law he meditates day and night. He shall be like a tree planted by the rivers of water, that brings forth its fruit in its season, whose leaf also shall not wither; and whatever he does shall prosper.

Spiritually speaking the water is the Holy Spirit, we are the trees that are to bear the fruit of the Spirit and show the life of Christ to the world. This can only happen when we are in the word and let the word dwell richly in us. We have seasons to bear fruit some are more abundant some are less. In the end it is the overall yield of a tree that counts. A farmer does not measure whether a tree is good by a year or two but by its lifetime, that takes patience.

The Psalmist echoed Jeremiah who said, "Blessed is the man who trusts in the LORD, and whose hope is the LORD. For he shall be like a tree planted by the waters, which spreads out its roots by the river, and will not fear when heat comes; but its leaf will be green, and will not be anxious in the year of drought, nor will cease from yielding fruit." The heart is deceitful above all things, and desperately wicked; who can know it? I, the LORD, search the heart, I test the mind, even to give every man according to his ways, according to the fruit of his doings."(Jer.17:7-10)

In Luke 13:6-9 Jesus spoke this parable: "A certain man had a fig tree planted in his vineyard, and he came seeking fruit on it and found none." Then he said to the keeper of his vineyard, 'Look, for three years I have come seeking fruit on this fig tree and find none. Cut it down; why does it use up the ground?' "But he answered and said to him, 'Sir, let it alone this year also, until I dig around it and fertilize it. 'And if it bears fruit, well. But if not, after that you can cut it down.' As with Israel Jesus gave them every possible chance to bear fruit and not just take up space. Jesus gives us every chance possible to bear fruit, we are not to end up being a pew warmer, a team of waterboys. Everyone can and should be involved. We were all given gifts and talents to accomplish God's purposes in our world. We have no excuse in being non-effective for his kingdom. If you can breath, you can be involved. The main reason the church has lost her voice and influence is from non- involvement. Which stems from timidity.

Trees are often used as symbolic illustrations for people, and nations. The bible teaches we are trees planted in water to bring forth fruit. James 3:12 "Can a fig tree, my brethren, bear olives, or a grapevine bear figs." This he applies to people as we need a nature change to be fruitful

. A fruitful tree bears after its own kind. It bears fruit and it can live longer than the first tree it came from. A healthy tree bears fruit it is natural process unless interfered. Each seed has the same genetic code, data of its source. Seed will bear after its own kind. In like manner Peter says we are born spiritually with an incorruptible seed. It is eternal, pure, life giving.

Jesus gives a absolute promise in John 15:2-8 "Every branch in Me that does not bear fruit He takes away; and every branch that bears fruit He prunes, that it may bear more fruit. "You are already clean because of the word which I have spo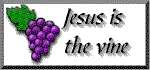 ken to you. "Abide in Me, and I in you. As the branch cannot bear fruit of itself, unless it abides in the vine, neither can you, unless you abide in Me. "I am the vine, you are the branches. He who abides in Me, and I in him, bears much fruit; for without Me you can do nothing. "If anyone does not abide in Me, he is cast out as a branch and is withered; and they gather them and throw them into the fire, and they are burned. "If you abide in Me, and My words abide in you, you will ask what you desire, and it shall be done for you. "By this My Father is glorified, that you bear much fruit; so you will be My disciples."
How do we abide in Jesus? By His word that the Holy Spirit takes to give us life. If you depart from the word of God you are departing from the God of the word. The words of Scripture are spirit and life to the believer they have a cleansing effect in us. If we are not filled with the word and understanding we will be living in our old nature and more apt to sin.
We can't produce fruit on our own, Jesus tells us to remain in Him to produce fruit. To continue in the vine is to continue with Jesus, in His word despite our feelings and our circumstances. You've never seen a tree struggle to bring forth fruit. This is supposed to be a natural process of the Holy Spirit's work in a believer's life as we cooperate by obedience. By allowing the fruit of the Spirit to be seen in our lives we are showing ourselves to be His disciples.
Maybe your wondering when will it happen, as you have not seen it yet the writer of Hebrew encourages us to "not become sluggish, but imitate those who through faith and patience inherit the promises." (Heb 6:12 15)
The fruit of the Spirit is love, joy, peace, longsuffering, kindness, goodness, faithfulness, gentleness, self-control. Against such there is no law. And those who are Christ's have crucified the flesh with its passions and desires. If we live in the Spirit, let us also walk in the Spirit"( Gal 5:22-25). 2 Cor. 4:16-18 "Therefore we do not lose heart. Even though our outward man is perishing, yet the inward man is being renewed day by day. For our light affliction, which is but for a moment, is working for us a far more exceeding and eternal weight of glory, while we do not look at the things which are seen, but at the things which are not seen. For the things which are seen are temporary, but the things which are not seen are eternal.
Paul calls us to focus on the eternal perspective and look beyond our present circumstances no matter how harsh they may seem. Our physical body is dying but our Spirit is strengthened and given life and purpose day to day.
(for the fruit of the Spirit is in all goodness, righteousness, and truth), finding out what is acceptable to the Lord. And have no fellowship with the unfruitful works of darkness, but rather expose them. For it is shameful even to speak of those things which are done by them in secret. But all things that are exposed are made manifest by the light, for whatever makes manifest is light." If something is not acceptable we are not to endure it or condone it by being tolerant we are to speak on it to help those escape.
Paul goes on "Therefore He says: "Awake, you who sleep, arise from the dead, and Christ will give you light." See then that you walk circumspectly, not as fools but as wise, redeeming the time, because the days are evil. Therefore do not be unwise, but understand what the will of the Lord is." The will of the Lord is that we have oil in our lamps and not be like the foolish virgins but the five wise ones. The will of the Lord is to stand for truth in a time of no absolutes. One sure way of postponing ones fruitfulness is to shrink back and not say what is necessary to friend or foe. Consistent small compromises only lead to bigger ones. There is a right time and a wrong time to speak up, but there is never a time to always stay silent.
Many a Christian finds themselves in the shadow lands not having any direction or a goal, certainly without a vision the people perish. We need to get real with the Lord and not just say things and go on as usual. We need a revelation of who we are in Christ and His purpose in our life. God has a purpose for everyone who has received Christ's life and given Him there's. We need to be actively pursuing to find out what that is. For those who know what it is they need to be active in it and not lose heart. Your labor in the Lord is never in vain.
We need to focus on the big picture that is an eternal one and not get caught up in the transient the things that come for little while and fade away. We need to focus on the most important mission of all "people who Christ died for." Jesus is concerned about human beings and their destiny and we are to minister to their needs so that they can come to the saving knowledge of Jesus. This is the idea of being fruitful that one is used for God's kingdom by being completely ready, set apart to do his will when it arises. It is not enough to have an evangelistic crusade or service. We need to be involved in people's lives afterwards. It's called discipleship, friendship, showing we are a authentic Christian.
Our walk with the lord is as a race but to run to the finish line and be fruitful we need to cast aside the weights that slow us down or encumber us. We don't want to make it hard on ourselves.

If you are not running the race and your standing still and you are losing ground.

Our part is a daily effort to discipline ourselves to godliness as an athlete competing in games (1 Tim 4:7). Disciplining ourselves to a godly lifestyle takes time, and patience. Practice does not make perfect but it does make our God given talent and character mature. By being consistent we will be able to naturally do the right thing when confronted with daily decisions. Then we will see the fruit in our lives and so will others, and our God will be glorified.
My prayer for us all is Col. 1:10-11: "that you (and I) may have a walk worthy of the Lord, fully pleasing Him, being fruitful in every good work and increasing in the knowledge of God; strengthened with all might, according to His glorious power, for all patience and longsuffering with joy."