Fantasy Spiritual warfare 2 DVD's near 3 hours long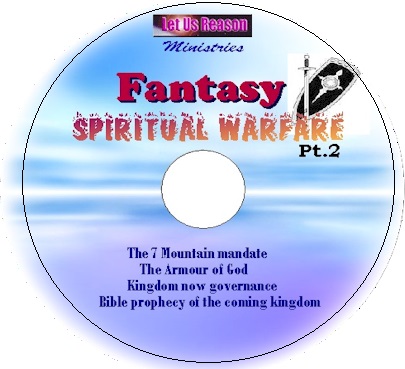 This is probably the most important DVD we have done which covers one of the most dangerous of all the false teachings in the church, Those who claim they will, or have defeated Satan and bring the kingdom of God to earth.
This DVD contains an overview teaching on spiritual warfare in Bible history. We cover who is Satan, how he tempts us, the Devils strategies of distraction and lies and the fallen angels influence over mankind.
The new age movement's part. Who is behind plans in the New Age Movement. The unity of universalism. Those in the church that say the same things, who are willing to accept and synthesize other beliefs and call it Christianity
What is practiced today as spiritual warfare. Spiritual war by Breaking curses. Numerous clips that show what they mean by their own words; clips of the originators of the movement and it connection to the latter rain, and Peter Wagner who has written and endorsed more books on this subject than anyone else. This is the basis for the New Apostolic movements dominionist teaching that are permeating churches (via Peter Wagner), at the same time they are rejecting the teaching on the tribulation period and the rapture.
In it we cover the dominionist teaching of the 7 mountain mandate of the new apostles. Video Claims of defeating Satan by those in the new apostolic prophetic movement. The spiritual warfare meetings that bring confusion by demon chasers teaching others to do the same. YWAM's involvement from the beginning to today.
What is our spiritual armor for our protection. Where is the warfare really being fought? Is our warfare in the heavens or on earth. Are demons running wild and is the control for peace in the world up to the church? The meaning of binding and loosing and the real spiritual warfare the world is facing now and in the future.
What is the most feared thing we can counter Satan with. How to fight against the enemy, and how not to fight. The railing against the enemy binding and incarcerating him. Why it is important to test their teachings and read the Bible carefully.
USA, shipping included $21.50
Outside the US, Overseas, shipping included $23.50